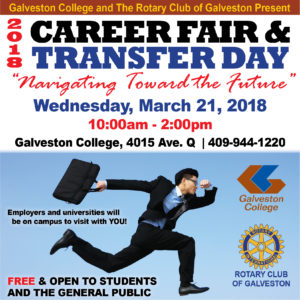 Galveston College and the Rotary Club of Galveston have partnered to present the 2018 Career Fair and Transfer Day on Wednesday, March 21, from 10 a.m. to 2 p.m. in Moody Hall, Regents Hall and the Atrium of the Mary Moody Northen Center on the Galveston College main campus located at 4015 Avenue Q, Galveston, Texas.
"Navigating Towards the Future" is the theme of this year's Career Fair and Transfer Day, which is open to students and the general public.
Participants can fill out applications for employment or admissions. Employers also are welcoming applicants with resumes.
The following employers, colleges and universities are scheduled participate in the fair:
City of Galveston

County of Galveston

Domino's

Galveston Island Beach Patrol

Galveston Island Park Board

YMCA of Greater Houston

Island Famous/The Spot

Moody Gardens

Pleasure Pier

Rosenberg Library

The San Luis Resort

Schlitterbahn Galveston

Heartland Institute of Financial Education and Literacy

Terminal Security Solutions

U.S. Customs and Border Protection

Wyndham Hotels/Hotel Galvez

Fashion Institute of Design

Lamar University

Sam Houston State University

Stephen F. Austin State University

Texas A&M University at Galveston

Texas A&M University

Texas Southern University

Admissions and Recruitment

College of Education

College of Pharmacy

Texas State University

Texas Woman's University

University of Houston

University of Houston Clear Lake

University of St. Thomas

University of Texas at Arlington, College of Nursing

UTMB, Health Professions

UTMB, Nursing
Employers, universities and colleges that would like to register to participate can contact Dr. LaToya Mills-Thomas at (409)944-1221 or lmills@gc.edu.