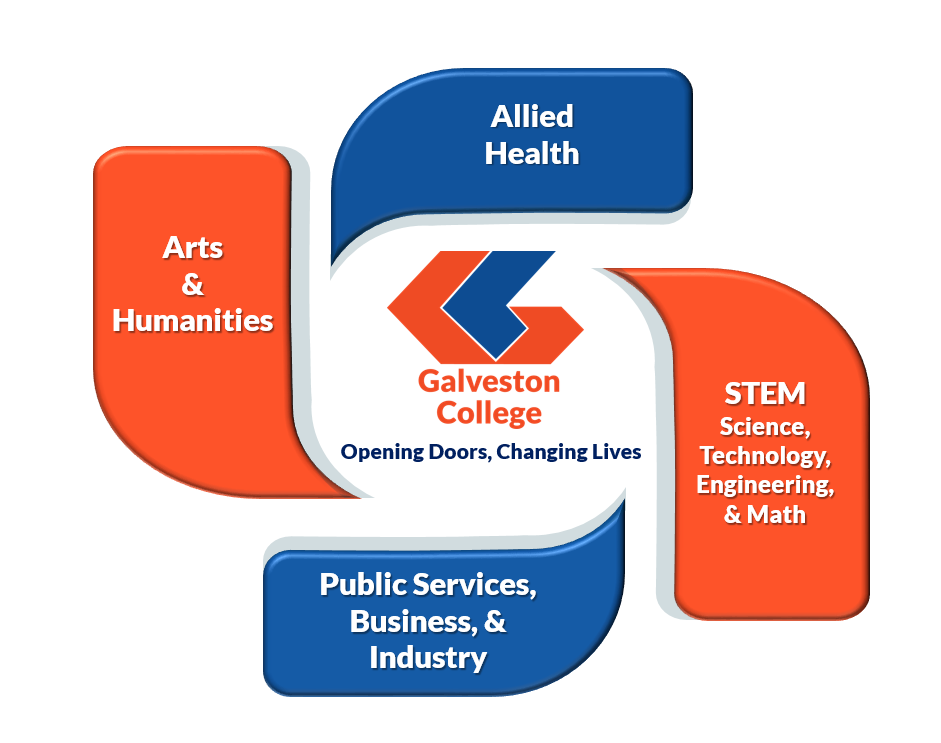 Following in the footsteps of success from the previous Title V project "Modern Strategies for Student Success" in 2012, Galveston College has begun a second five year Title V project, entitled "Pathway Model for Improved Teaching, Advising, and Transfer at a Hispanics-serving Community College". It is a project funded by the US Department of Education designed to improve student success, retention, persistence to graduation, and transfer among GC's student population.
OBJECTIVES/MISSIONS
Clarify pathways for students

Help students get on a guided path

Help students stay on a guided path

Ensure students are learning
In order to:
Increase retention (course completion and fall to fall retention)

Improve course success
Increase completion rates of a recognized credential
Increase successful transfer to 4-year institutions 
INITIATIVES
Initiative #1 – Redesign General Education Courses
Redesign courses to infuse active learning strategies proven to increase success.
Equip new flexible-design, technology-rich classrooms
Renovate and equip collaborative learning space in GC's library to facilitate active learning.
Initiative #2 – Develop a New Comprehensive Pathways Advising System.
Renovate key student services spaces and update IT capacity
Introduce a new advising software system to faculty, staff members and students
Develop pathway-specific transfer agreements with regional four-year institutions
GALVESTON COLLEGE PATHWAYS
DIRECTORY
Sandra Metoyer, Ph.D.

Director

Title V Pathways Project

Galveston College

smetoyer@gc.edu

409-944-1283

Dr. Sandra Metoyer is the Director of the Title V Pathways Project at Galveston College. She has her Ph.D. in Geography from the College of Geosciences at Texas A&M University. Her interests include STEM education, community college education, program evaluation, education research, and Guided Pathways. In her role as Director for the Title V Pathways project, Dr. Metoyer is responsible for facilitating the development, implementation, and evaluation of a Guided Pathways model at Galveston College. The Guided Pathways model, fully implemented, will improve student success at Galveston College through increased retention, academic and program success, completion, and transfer.

 

Peggy Ann Lumpkin, Ph.D

Instructional Methodologist

Title V Pathways Project

Galveston College

plumpkin@gc.edu

409-944-1258

Dr. Lumpkin is the Instructional Methodologist for the Title V Project. She has a Ph.D. in Instructional Technology from the College of Education and Human Development at Georgia State University. She is responsible for developing and offering professional development in active learning instructional methods for higher education. In her role, she works with constituent groups to identify, prioritize, and implement faculty professional development needs specific to active learning instructional strategies. Before serving at Galveston College, Dr. Lumpkin was the Director of the Center for Excellence in Teaching and Learning (CETL) and Assistant Professor of Education at Young Harris College in Young Harris, GA for five years.

 

Dr. Sha Li Swiger

Instructional Technologist

Title V Pathways Project

Galveston College

sli@gc.edu

409-944-0325

Dr. Sha Li Swiger

is the Title V Instructional Technologist responsible for leading the implementation and adoption of instructional strategies. This includes training of student services staff on new advising programs/technologies and facilitating course redesign to incorporate active learning strategies using instructional technologies. Before starting working at Galveston College,  Sha Li worked in the field of higher education for over 10 years, including teaching ESL courses in universities overseas and educational technology related courses in the U.S. Sha Li graduated from the University of Akron in Ohio with two Master's degrees- M.A.in Education Leadership & M.A. in Instructional Technology. She is currently working on her Doctoral of Education with focuses in Instructional Technology and TESOL. She will be graduating with her Ph.D. degree in Fall of 2019.