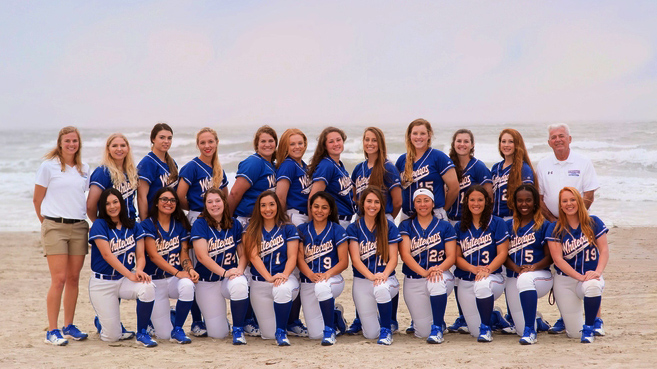 Ken Delcambre
Athletic Director/Head Softball Coach
Coach Delcambre was hired in 1998 to start the Galveston College softball program.  Prior to Galveston College, he served as the Assistant Softball Coach at Alvin Community College where he built a reputation as a highly talented pitching coach.
During his 18 year tenure at Galveston College, he and his assistants have amassed over 700 wins. Coach Delcambre has coached 10 NJCAA All-Americans and four NFCA All-Americans, along with three of his former players representing their Country's National Teams that competed against the against the US National Team in the 2008 Olympics in Beijing, China. Ken received his Bachelor's Degree and Masters of Fitness and Human Performance Degree at the University of Houston-Clear Lake. Coach Delcambre led his 2001-2002 Whitecap team to the NJCAA National Championships in Kissimmee, Florida, placing 7th out of 16 teams, and he and his assistant were awarded with the NFCA Regional Coaching Staff of the Year award for their accomplishment.
Coach Delcambre has high expectations for his team this year. The returning players have made great strides since joining the team last year, and the incoming freshmen have added speed, power, and command to the well-balanced sophomore group. Coach Delcambre fully expects the team to make it to the Regional tournament again this year; he also believes that they are very capable of making a run for the National title.
Coach Ken Delcambre is married to his wife Barbara, and they have made their home in Alvin, Texas. He has two daughters, Kim and Jennifer.
Christa Hartnett
Assistant Softball Coach
Prior to Galveston College, Coach Hartnett served as an Assistant Softball Coach at The University of Texas at Tyler. In her two years, Christa helped the UT Tyler Patriots to their program's first NCAA Div. III National Championship in 2016 and a 3rd place finish in 2017. She has coached 3 All-Conference, 2 All-West Region, 2 All-Americans, and a HERO Player of the Year.
Christa Hartnett is originally from Houston, Texas. She attended Blinn College where she was named 2nd team NFCA All-Midwest Region, 2nd team All-Conference, NJCAA Academic All-American, and NFCA All-American Scholar-Athlete. She went on to The University of Texas at Tyler where she was named All-Conference Honorable Mention, NCAA DIII Championship All-Tournament Team, and finished as NCAA National Runner-Up with a record of 50-5 while making "The Catch" (#1 play ESPN Top 10 & Best of the Best).
Hartnett graduated with a bachelor's degree in mathematics in December of 2015 and is currently working on her masters in Athletic Administration.