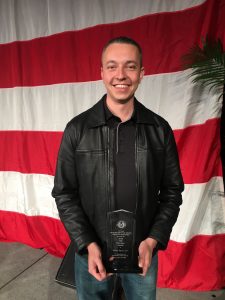 Brian Ayers, Emergency Medical Services program director and instructor at Galveston College, was named EMS Educator of the Year by the Texas Department of State Health Services at the 2018 Texas EMS Conference.
"Brian is very deserving of this award for the great work he has done with the EMS program here at Galveston College," said Dr. Cissy Matthews, vice president for instruction. "Brian and all the EMS faculty are dedicated to offering quality education that will prepare our graduates to be successful in the EMS profession."
The Texas EMS Educator Award honors a state-certified EMS instructor or course coordinator who advances EMS education in Texas through innovation, collaboration and a commitment to students. The award is decided by officials at the Texas Department of State Health Services Office of EMS and Trauma System Coordination.
"I am humbled and encouraged in receiving the honor of being named the Texas EMS Educator of the year," Ayers said. "I believe education is key to the advancement of the EMS profession, and I'm proud to be part of educating the next generation of EMS professionals."
Ayers was nominated for the honor by his students in the program.