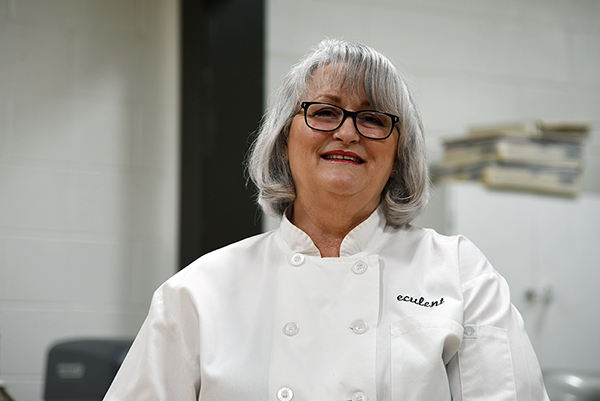 Chef Nancy Manlove's passion for food began at an early age.
Like most young women raised in the South, she and her twin sister spent countless hours in the kitchen learning to prepare the treasured recipes passed down from her mother and grandmother.
"Our mother taught us that the way to a man's heart is through his stomach, so I've always enjoyed home cooking," said Chef Manlove. "But home cooking is not the same as being a professional chef."
Chef Manlove found her professional calling to cuisine after retiring from a successful corporate career with United Space Alliance working for NASA.
At age 60, she enrolled in Galveston College to pursue a Culinary Arts degree, graduating first in her class with a 4.0 grade-point average.
Her culinary career began in 2012 at Moody Garden Hotel, Convention Center and Spa under the leadership of award-winning Executive Chef Urs Schmid.
As a Galveston College intern, she worked in banquet and events, where the high-volume garde manger station provided her with a tremendous amount of kitchen experience and insight.
Later, she progressed to a role as a fine-dining pantry chef at the four-diamond and Trip Adviser Award of Excellence rated restaurant Shearn's Prime Steaks and Seafood.
Known for her leadership, public speaking and fundraising abilities honed from years in the corporate sector, Chef Manlove now serves as chef de cuisine at eculent, a modern farm-to-table restaurant in Kemah, Texas, under the creative direction and leadership of culinary artist David Skinner.
The two have formed a high-end catering company and have begun production of their "Two the Table" TV cooking show.
While a student, Chef Manlove also became intrigued with competitive cooking and recipe contests.
In 2015, she won an episode of the Food Network's "Cutthroat Kitchen" and, in 2017, she was a finalist on "Food Network Star."
Chef Manlove attributes much of her success to the skills and knowledge she received in the Culinary Arts program at Galveston College.
"Attending the program at Galveston College meant learning the art and science of the culinary experience," Chef Manlove said. "I still make many of the dishes I learned to make as a student – such as garlic soup."
Chef Manlove says her culinary career has provided her with a wide range of opportunities. She won a trip to Italy in a contest sponsored by Barilla Pasta, where she will have an opportunity to see actual recipes that pre-date Christ.
Her favorite food is steak – whether it's a classic filet mignon with béarnaise sauce or the traditional Steak Diane. She also has an affinity for international cooking.
"I also love fried chicken – traditional Southern dishes … food that I learned to make as a teenager," she said.
Chef Manlove encourages prospective culinarians to visit Galveston College and meet with Chef Paul Mendoza, director of the Culinary Arts program.
"There are so many opportunities for students interested in a career in culinary arts," she said. "You don't have to spend all of your time in the kitchen. There are careers as food stylists, bloggers and food reviewers and in areas such as competitive cooking. The sky is the limit for those who want to work hard and pursue certifications."
For more information on the Galveston College Culinary Arts program, contact Chef Paul Mendoza at pmendoza@gc.edu.