Boudin Kolaches: The Creolization of Our Local Culture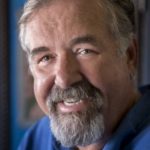 Please join us for the kick-off event of the "Coastal Culinary" Lecture Series featuring Robb Walsh. Walsh is a three-time James Beard Journalism Award winner, the author of a dozen books about food, and a partner in El Real Tex-Mex Cafe in Houston's Montrose neighborhood. He is the co-founder of Galveston Eats, a non-profit dedicated to preserving Galveston's food culture, associated with The Gulf Coast Food Project at the University of Houston's Public History Center. Walsh also co-founded Foodways Texas, a non-profit dedicated to preserving Texas food history headquartered at University of Texas at Austin.
Th event will take place Thursday, October 5, 2017 at 7:00 PM in the the Seibel Wing at Galveston College and is funded by a generous grant from The National Endowment for the Humanities.