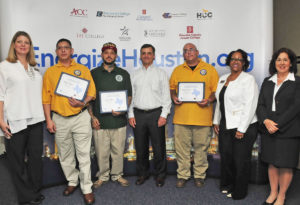 After completing the Accelerate Texas Program and earning his Level One Welding Certificate at Galveston College in May, 2016, Jacob Mares is now setting welding records at his current position at Parkline, Inc. in Hitchcock, Texas.
While he is very proud to be a welder he said, "The road to my current job was quite difficult."  His teenage years were tumultuous and he remembered not wanting anyone to tell him what to do. At the age of thirteen, he started getting into trouble and his father told him he could no longer live at home. After being forced to leave home, he lived with a variety of extended family members and friends and was "kicked out" of high school when he was 14 years old. Jacob starting working and attending a night school program to earn his GED, but was unable to earn the required, cumulative score.
When he was 18 years old, his first child was born and he worked as a painter for the next two years. He frequently arrived at work early or stayed after work to improve his painting skills. While he became a proficient painter he said, "The income earned was not enough to take care of himself and his daughter."
At the age of 20, he was hired as a Boilermaker in the refineries and was initially paid $16.00 an hour. Over the next nine years, he received three pay increases and was earning $32.00 an hour when he was laid off. While the pay was excellent, he said he was always on the road and missed being away from his growing family. After his position was terminated, he decided he wanted to make a professional change.
On December 10, 2015, Jacob went to Workforce Solutions in Texas City to get assistance in finding a new job. While speaking with a Workforce counselor, he noticed a Galveston College, Accelerate Texas flyer, which listed three available career pathways, including welding. Jacob immediately called Galveston College, Career Navigator, Sharon Pagan, and was able to come in for an intake the very same day. He returned to take the required Texas Adult Basic Education test on December 14, 2015 and completed remaining requirements to begin the welding program in January, 2016.
Once Jacob started welding classes, he said the process of learning was stressful. He said it difficult to remain focused for extended periods and the precision required was extremely challenging. He said it was hard to maintain a steady hand and he was frustrated when projects broke into pieces. He said the encouragement he received from Galveston College Welding Program Director, James Love, was critical and kept him from giving up. He said his wife also gave him tremendous encouragement and made it possible for him to remain in school.
Jacob participated in the Galveston College, Accelerate Texas Recognition Ceremony on May 12, 2016 and was presented his Level One Welding Technology Certificate. His father proudly attended the ceremony, along with his wife and children. At the end of May, he was hired by Bebco. Inc., as a Welding Helper at $13.00 an hour. When asked if the felony convictions from his teenage years were a hindrance, he said, "If an employer sees you are determined to make positive contributions to their organization on a daily basis, opportunities are possible."
Despite being very nervous, Jacob recently took a required welding skills test in December, 2016 and earned the certification of a 3G and 4G Journeyman Welder. Following passing the skills test, his pay increased to $17.00 an hour. Jacob explained, "I was not going to stay at the bottom."
Bebco was recently purchased by a Parkline Inc. Jacob said the purchase went smoothly and he is now eligible for two pay raises per year. He is currently earning $18.00 an hour and is part of a team that fabricates PSI (Pressure per Square Inch) blast proof buildings. He has taken the initiative to learn about structural fitting, where precision is measured to 1/32 of an inch. Jacob recently set a record at work where he fabricated two, thirty foot sections of a PSI building, by himself, in four days. He commented, "I want to finish each day knowing I got something accomplished that benefits the company." He currently works four, ten hour shifts each week and has three day weekends to enjoy with his young family. He works minutes from home and is thrilled not to have to deal with daily traffic. "Completing the Accelerate Texas Program has placed me in a career where I can excel professionally and my quality of his life has improved dramatically and that means the world to my family!"