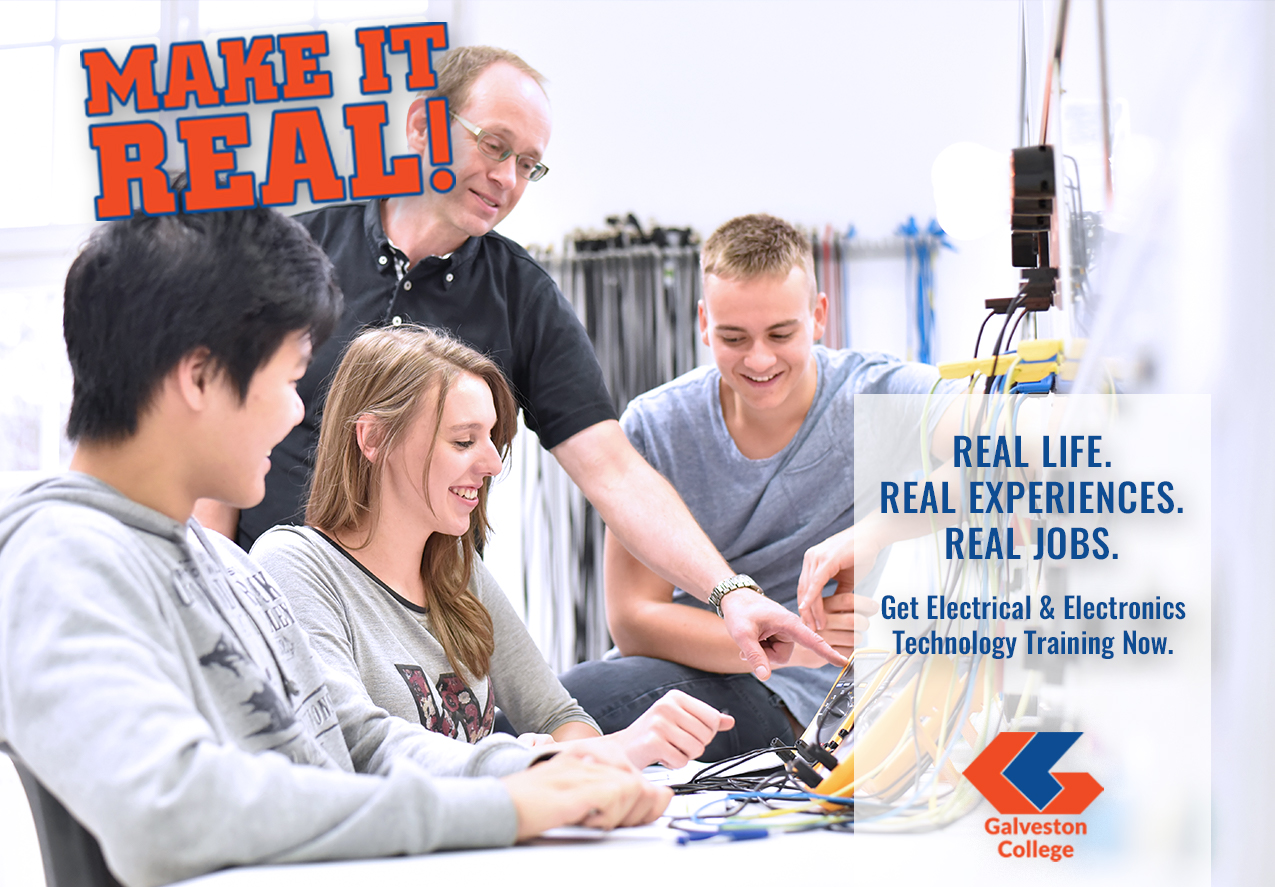 Get Your Technology Career Off to the Right Start!
Begin Pursing Your Electrical & Electronics Technology Training!
WHY ELECTRICAL & ELECTRONICs TECHNOLOGY?
Galveston College's Electrical/Electronics Technology Program is designed to provide training for persons interested in the installation and maintenance of electrical/electronic systems found in residential, commercial, and industrial facilities. Training, most of which is hands-on, will include such topics as AC/DC theory, basic wiring practices, digital electronics, programmable logic controllers, industrial motor controls, National Electric Code, and other subjects as local needs require.
ABOUT THE PROGRAM
Galveston College's Electrical and Electronics program is also an accredited NCCER program. Students will have the opportunity to obtain credentialing that will put them into an international database for prospective employers within the industry to view a student's Electrical and Electronics credentials. Along with the NCCER certificates, students may also obtain three college certificates and an associate degree.
Why Galveston College?
Galveston College is a fully accredited community college and is instrumental in providing the educational needs of the community by providing academic transfer, workforce education, continuing education, and developmental programs. Within all of these programs, Galveston College maintains the highest level of standards and encourages innovative teaching methods, which take full advantage of current technologies.
Fully accredited, two-year community college
More than 3,000 students enrolled each year
Specialized academic, technical and professional programs
Developmental programs enable success for all students
47 Associate (2-year) & Bachelor Degree Programs / Majors
23 Certificate Programs
Universal Access Scholarships available for qualifying
Galveston students
Smaller class sizes for greater student-teacher engagement