Virtual Lecture: "What Can We Learn from the Exhibit 'Lives Bound Together" featuring Dr. Susan P. Schoelwer
03/09/2021 @ 6:00 pm

-

7:00 pm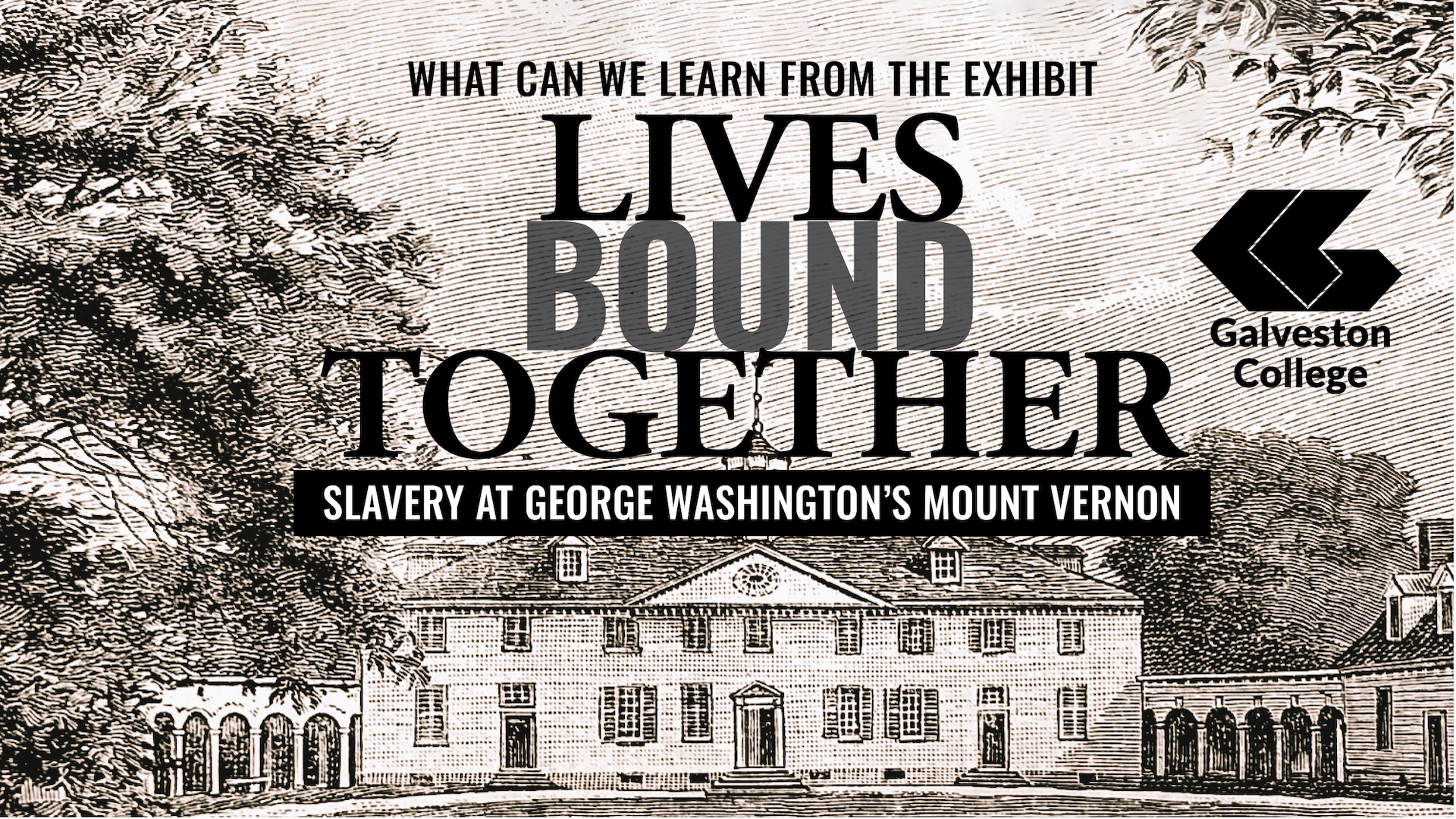 Executive Director of Historic Preservation and Collections and Robert H. Smith Senior Curator Dr. Susan P. Schoelwer of George Washington's Mount Vernon will be the guest speaker for the third installment of the 2021 lecture series on Diversity, Inclusion and Empowerment at Galveston College.
The lecture titled "What Can We Learn from the Exhibit 'Lives Bound Together: Slavery at George Washington's Mount Vernon'?" will be presented virtually at 6 p.m. on Tuesday, March 9, via Zoom videoconference. It is free and open to the public.
Installation of the current, award-winning special exhibition "Lives Bound Together: Slavery at George Washington's Mount Vernon" in 2016 marked a significant step in an ongoing process of recognizing and recovering the historical experiences of hundreds of enslaved people owned by George and Martha Washington in the 18th century.
In her presentation, Dr. Schoelwer will present an overview of the galleries and offer behind-the-scenes reflections on the development of the exhibition and related projects, lessons learned, and continuing efforts to offer a more inclusive interpretation of life on one of America's best-known plantations and most-visited historic sites.
"The lecture by Dr. Schoelwer will provide a unique glimpse at less-known historical facts surrounding the first president of the United States George Washington with respect to slavery," said Dr. Laimutis Bytautas, chair of the Faculty Professional Development Committee at Galveston College. "The information presented in this lecture will be very valuable in providing a proper understanding of the early days of the history of the United States."
Dr. Schoelwer directs the architectural preservation, furnishing, and interpretation of George and Martha Washington's house and surrounding plantation buildings and landscape, as well as the creation of museum exhibitions, including "Lives Bound Together."
Prior to coming to Mount Vernon as curator in 2010, Dr. Schoelwer served for more than a decade as head of museum collections at the Connecticut Historical Society, where she authored "Connecticut Needlework: Women, Art and Family, 1740-1840," winner of the 2011 Connecticut Book Award for Non-Fiction. She holds a Doctor of Philosophy in American studies from Yale University, a master's degree from the Winterthur Program in Early American Culture at the University of Delaware and a Bachelor of Arts in history from the University of Notre Dame, where she participated in the historic transition to coeducation.
"On a daily basis, Dr. Schoelwer has the opportunity to draw upon documents and artifacts that bring to life the relationships between George Washington and the slaves who served him and Martha," said Michael Berberich with the Faculty Professional Development Committee. "The insights Dr. Schoelwer brings to the topic from putting together the award-winning exhibit will be a unique contribution to the depth of our students' education and will add new knowledge to the Galveston community as a whole."
In addition to Mount Vernon and the Washingtons, Dr. Schoelwer has written and lectured on a variety of topics, including American art and decorative arts, needlework and women's history. She is currently researching a book examining the creation and continuing re-creation of George Washington portraits.
For more information, please contact Dr. Laimutis Bytautas, Faculty Professional Development Committee chair, at 
lbytautas@gc.edu
 or (409) 944-1273.