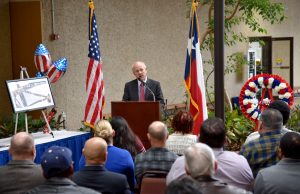 On Veterans Day, Nov. 12, Galveston College and Galveston Island celebrated the 100th anniversary of the lighting of the lamp at the Galveston Jetty Lighthouse at what was at the time the busiest port on the Gulf Coast and second busiest port in the country.
A commemoration featuring a Veterans Day wreath ceremony with student speaker Stephany Sagastume and special music by Kay Reagan recognized veterans and active-duty military personnel.
The event also featured lectures on the history of the Galveston Jetty Lighthouse with Kevin Kinney of the Rosenberg Library and the Galveston College Beacon Square with Joe Huff, who served as director of public affairs at Galveston College from 1982 to 2017.
On Nov. 12, 1918, one day after the Armistice of Nov. 11, 1918, and after 14 years of on-and-off construction, the lamp was lit for the first time at the Galveston (South) Jetty Lighthouse with George W. Bardwell serving as the first head keeper.
A violent storm ravaged the lighthouse on May 2, 2000, and the iron pilings, weakened by years of rust, gave way, causing the lighthouse to fall into the water.
In 2001, the Galveston Community College District Board of Regents met in a retreat and adopted the vision statement: "A Beacon of Light Guiding Lifelong Learning." Regent John L. Sullivan convinced the board that the college needed a symbol at the entrance of the college at 39th and Avenue Q.
Regent Sullivan knew that the actual South Jetty Lighthouse cupola was rusting away in Sonny Broome's welding yard, having been placed there after being salvaged by George P. Mitchell's company. In 2003, the U.S. Coast Guard granted a loan of the cupola to Galveston College, and John and Cindy Sullivan provided a donation of over $20,000 to have Sonny Broome restore it. Architects were hired to design an area known as Beacon Square that would feature a replica of the South Jetty Lighthouse that used to stand on Galveston Island's east end.
In November 2006, a public ceremony that included the U. S. Coast Guard color guard dedicated Beacon Square and the lighthouse replica, complete with the restored lighthouse cupola. Subsequent improvements allowed a fundraising engraved brick project to surround the lighthouse with nine oak trees available with naming rights.
The Beacon Square lighthouse now stands as a beautiful focal point at 39th Street and Avenue Q and a landmark for the Galveston College campus.
Above: Galveston College President Dr. Myles Shelton welcomes guests to the 2018 Veterans Day ceremony and commemoration of the 100th anniversary of the lighting of the Galveston Jetty Beacon on Nov. 12. For more photo highlights of the event, click here.