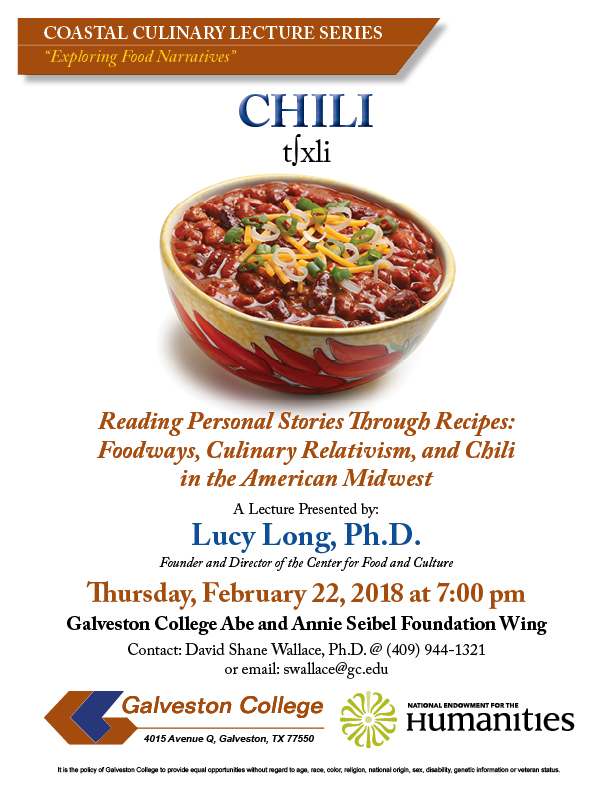 Galveston College will present the third talk in its Coastal Culinary Lecture Series: Exploring Food Narratives on Thursday, Feb. 22, at 7 p.m. in the Abe and Annie Seibel Foundation Wing on the Galveston College campus, 4015 Avenue Q, Galveston, Texas.
Guest speaker will be Dr. Lucy Long, founder and director of the Center for Food and Culture, who will discuss "Reading Personal Stories Through Recipes: Foodways, Culinary Relativism and Chili in the American Midwest.
"We are excited to welcome Dr. Long to Galveston College for the third in our Exploring Food Narratives lecture series," said Dr. Shane Wallace, associate professor of English and coordinator of English and Humanities at Galveston College. "Because all food tells a story, Dr. Long's presentation will focus on why we eat what we eat and on how recipes are passed down from generation to generation, becoming long-standing family and regional traditions. Participants will enjoy comparing and contrasting a Midwestern chili and a traditional Texas chili prepared by Chef Paul Mendoza and the students in our Culinary Arts department."
A folklorist, musician, mother, cook and consumer of most things edible, Dr. Long began studying food in 1980 in relation to work on Asian immigrant communities in the U.S. and has continued looking at food from many perspectives.
When she began teaching in the mid-1980s the field of foodways was not recognized as a serious academic subject, so she explored and taught about food in the context of other disciplines– folklore, anthropology, popular culture, American culture studies, international studies, tourism, even ethnomusicology.
Dr. Long also worked in museums and libraries doing exhibit research and design, educational programming, archiving and interpretative presenting. Food was a common theme throughout much of this work.
Dr. Long's multidisciplinary scholarly background – folklore, anthropology, philosophy, music, ethnomusicology, sociolinguistics, oral history, museum studies – and her involvement in both academia and public sector work made her familiar with a wide range of approaches to understanding food. It also made her aware of the multiple issues surrounding it, and the ways in which those issues are intertwined and complex.
As a scholar and an activist, Dr. Long observed that individuals and organizations oftentimes worked in isolation and could benefit from increased intercommunication. She also noticed that cultural perspectives on the meanings of food tended to be ignored or misunderstood by those concerned with changing the contemporary food system or improving our personal eating habits.
Since meaning is the basis for action, Dr. Long felt that dialogues among scholars, chefs, nutritionists, farmers, green market advocates and others concerned with food and foodways are necessary to create positive and sustainable change.
The Center for Food and Culture was established in 2007 to bring together resources, organizations and individuals involved in food research, study, appreciation, activism, production and consumption in recognition that food connects all.
The free lecture is open to the public and is funded by a generous grant from the National Endowment for the Humanities.
For more information about the lecture, contact Dr. Shane Wallace at (409) 944-1321 or swallace@gc.edu.