The Galveston College Community Chorale will celebrate 50 years of musical memories in 2021-2022 and is seeking new singers in all vocal parts.
After a pandemic-induced hiatus during the 2020-2021 academic year, the community chorale will begin its fall rehearsal schedule on Monday, Aug. 30, from 7 to 9 p.m. on the main campus of Galveston College, 4015 Avenue Q, Galveston.
Michael Gilbert, who served as choral director for the Galveston Independent School District for more than three decades, serves as director of the community chorale. Nationally acclaimed concert organist Ron Wyatt is accompanist.
The Galveston College Community Chorale was established in 1972 by Dr. Larry Patton, who directed the chorale for 27 years. The chorale was part of the newly formed music department at Galveston College to allow interested individuals the opportunity to participate in a performing organization.
The first year, the chorale had approximately 40 singers. During the 2019-2020 academic year, the chorale averaged 65 singers.
"The chorale is a representative of the city of Galveston," said Gilbert. "Many family members and friends of the chorale attend our concerts, as well as other choral music lovers from the community and surrounding area."
The chorale performs all styles of music, both sacred and secular, from the Renaissance period of music, to Handel's "Messiah," Schubert's "Mass in G," madrigals, operatic choruses, patriotic music, American folk music, spirituals, the music of Broadway and popular music.
Music by contemporary composers such as John Rutter, Robert Shaw, Daniel Pinkham, Randall Thompson and Texas resident Dan Forrest has also been performed by the chorale.
The group has even performed at Carnegie Hall.
The chorale is a non-auditioned organization supported by Galveston College and is part of the Continuing Education department's curriculum. It is open to all individuals who enjoy singing and performing.
"It's a fun group of people to work with," Gilbert said.
In 2018, the Galveston Art League recognized the Galveston College Community Chorale for making significant and valuable contributions to the arts in Galveston.
Gilbert said he welcomes back former members of the chorale and wants to attract new members who love to sing, are looking for a venue to sing with others, enjoy learning new musical arrangements, and want to entertain in public.
The chorale will prepare for its holiday concert of traditional carols scheduled for Dec. 13 at 7:30 p.m. at Moody Memorial United Methodist Church in Galveston.
The chorale also presents a spring concert and is often involved in other special events and/or fundraisers.
Membership tuition in the Galveston College Community Chorale is $40 each semester. To register, please contact the Galveston College Continuing Education office at (409) 944-1344 or https://gc.edu/continuing-education/about-ce/register/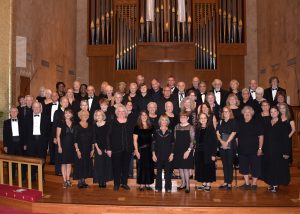 .
For additional information, please contact Galveston College Community Chorale Director Michael Gilbert at mgilbert@gc.edu or the Galveston College Continuing Education office at (409) 944-1344.