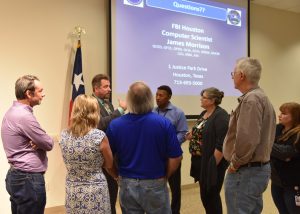 Computer scientist James Morrison with the FBI's Cyber Task Force had some sound words of advice for Galveston College faculty and staff at Friday's Fall 2018 General Assembly.
"Use a password manager to keep up with your passwords; cloud-based or apps are the most common," he said. "Longer passwords are best. Add four characters to the minimum required by your system. Alter your password patterns. And don't capitalize the first letter and end with numbers."
Morrison, the guest speaker for the biannual convocation, also shared an overview of cyber attacks, emerging threats and the FBI's effort to investigate internet crimes.
President Myles Shelton, Vice President of Instruction Cissy Matthews and Acting Vice President of Student Services Ron Crumedy gave an update on the first year of the college's strategic plan.
The four goals — Student Access and Enrollment, Student Success, Employee Development and Institutional Resources, were reviewed, with the presenters noting that many first-year benchmarks have been established.
Dr. Shelton also presented an overview of the new faculty salary schedule, acknowledging the tremendous work of the Faculty Salary Survey Committee, and the new salary structure for adjunct faculty and non-faculty.
Vice Presidents Matthews and Crumedy presented a session on monitoring what matters and the Texas Pathways Initiative, citing a number of outcomes at Galveston College. They lauded programs such as the Read Deeper Quality Enhancement Plan initiative, counseling and academic advising, Building Bridges to Student Success, the Student Success Center, early alert, Universal Access, Upward Bound, the Male Success Initiative and many others that contribute to student success.
Carol Langston, director of Public Affairs, and the brand ambassadors team rolled out the updated brand for Galveston College, introducing coastal orange and royal blue colors, modern typography, and an ad campaign that focuses on the benefits of the college — high-quality academic programs, location, student-oriented faculty and staff, accessibility and affordability.
The faculty enjoyed a number of presentations throughout the afternoon, including an update on cybersecurity and technology from Director of Information Technology George Crossland, a Student Services update from Vice President Crumedy and an Instructional Affairs update from Vice President Matthews.
Above: James Morrison (second from left) with the FBI's Cyber Task Force answers questions from faculty and staff following Friday's Fall 2018 General Assembly presentation at Galveston College.