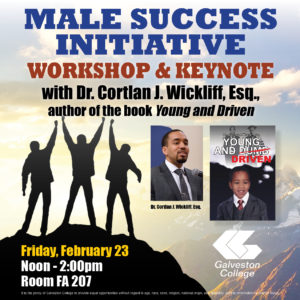 The Galveston College Male Success Initiative will host a lecture featuring engineer, attorney and author Dr. Cortlan Wickliff on Friday, Feb. 23, at 12 p.m. in Room 207 of the Fine Arts Building on the Galveston College campus at 4015 Avenue Q, Galveston, Texas.
Dr. Wickliff has an impressive resume, which includes graduating from Rice University as the youngest engineer in the nation at age 19. He then became one of the youngest African-American Harvard Law School graduates in the history of the school at age 22, and was the youngest of more than 94,000 barred attorneys in the state of Texas at age 23.
Dr. Wickliff completed his education by graduating with his Ph.D. at age 25 from Texas A&M University where he majored in Interdisciplinary Engineering. His research focused on how to apply engineering principles to better manage and bolster organizational compliance with contractual and legal regulations.
He is the author of "Young and Driven," a collection of the concrete exercises, lessons and life experiences that allowed him to achieve so many extraordinary milestones at such a young age.
Dr. Wickliff served as assistant general counsel for a Texas-based pharmaceutical company, Kalon Biotherapeutics, LLC, where he spearheaded a public-private partnership to build, what will be, the largest concentration of pharmaceutical production in the Bryan/College Station's Biomedical Corridor.
After assisting Kalon in its acquisition by Fujifilm, he also became the youngest member of the Fujifilm's North and South American legal team, which was responsible for all legal matters for over 20 Fujifilm subsidiaries located in North and South America.
In addition to his legal work in the pharmaceutical industry, Dr. Wickliff has worked in intellectual property law, business and product development, and science, technology, engineering and mathematics (STEM) education. He also has gained significant biomedical and alternative energy research and development experience.
Throughout the fall 2017/spring 2018 semesters TG Scholars at Galveston College have participated in a book club where Dr. Wickliff's book, "Young & Driven," has been the focus. The male scholars have dissected Dr. Wickliff's concepts on motivation, planning and success.
"We look forward to having Dr. Wickliff on campus so that the scholars can put a personal experience along with the author that they have been studying for the past several months," said Dr. LaToya Mills, TG Scholar coach and Student Success advisor at Galveston College.  "Most of the scholars have never had such an opportunity, to meet a guy that they've been reading about. It brings everything we've discussed to life!"