Congratulations to Galveston College professors, Dr. Conrad Breitbach and Dr. Janene Amyx Davison, on the completion of their doctoral studies at Texas Tech University at Lubbock.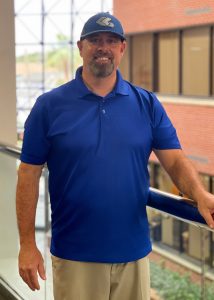 Dr. Breitbach has earned a doctorate from the College of Education at Texas Tech, where his dissertation focused on the "Exploration of Practices of Texas Public Community College Presidents for Working Effectively with Their Board of Trustees." The specific foci of the study were the perceptions and experiences of presidents of how board composition, board member training, and perceptions of trust affect their working relationships with their board members.
Dr. Breitbach has worked in the field of kinesiology since 1998 and has taught in higher education since 2001. He earned undergraduate and master's degrees in Sports Science from the University of Idaho, where he played collegiate rugby. While in graduate school at the University of Idaho Center for (Sports) ETHICS, he developed models of leadership studies/curricula that have been used by high school, college and professionals sports teams, including the Los Angeles Chargers and Atlanta Braves. He received an Inspirational Graduate Award upon completing his master's degree from the University of Idaho. During and after graduate school, he worked as a strength and conditioning coach. He also played in the European Rugby Union for several years.
Dr. Breitbach is currently an associate professor and director of Arts and Humanities at Galveston College. He earned tenure in 2008 and served as faculty senate president from 2008 to 2011. During his tenure at Galveston College, he has assumed many leadership roles and has chaired and participated in various task forces, accreditations, certifications and committees.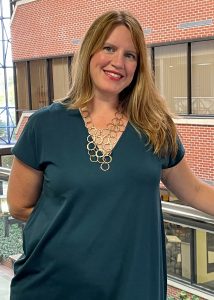 Dr. Davison has earned a Doctor of Philosophy (PhD) in Technical Communication and Rhetoric from Texas Tech. Her dissertation, titled "Vulnerable Entanglements: Self-Care as a Rhetorical Practice of Embodied Resistance," examined the intersection of self-care, activism and vulnerability, considering how "non-normative" bodies could be used as tools to push back against discrimination while working toward individual flourishing. Her other research interests include material feminism and ethics.
Dr. Davison has worked in the field of communication since 1996 and has taught in higher education since 2004. After graduating from Texas A&M University with a Bachelor of Arts in Speech Communication, Dr. Davison worked in medical marketing before going on to earn a Master of Arts in Mass Communication from the University of Houston.
Dr. Davison is currently an assistant professor and coordinator of Speech Communication at Galveston College and has served as the faculty senate president since 2019. She was awarded tenure in 2012, and she has twice been recognized for her exceptional service. From 2012-2020, she served as the college's Southern Association of Colleges and Schools Commission on Colleges Quality Enhancement Plan director where she worked with faculty across disciplines to improve students' content-area reading skills.