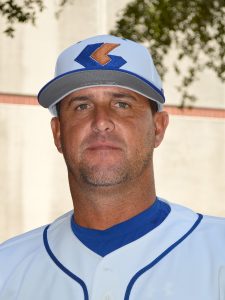 Kevin Lallmann has been promoted to head baseball coach at Galveston College.
Lallmann succeeds Chris Joblin, who last week accepted a position as the south Texas regional scout for the Miami Marlins.
"Kevin has been a tremendous asset to the Galveston College baseball program for the past four seasons," said Galveston College President Myles Shelton. "He is a respected member of the baseball community and will give us the opportunity to make the transition in this position as smooth as possible for our student-athletes and program. His dedication to our students' success – both on and off the field — is commendable. We are thrilled to have him in this leadership role."
Lallmann grew up in Carlsbad, New Mexico, where he played for the two-time state champion Carlsbad Cavemen. After high school, he played for New Mexico Junior College and Oklahoma Baptist University.
Prior to coming to Galveston, he was the head coach at Vernon College in Vernon, Texas. He also served as an assistant coach and kinesiology professor at New Mexico Junior College in Hobbs, New Mexico, and began his coaching career at the University of Central Oklahoma in Edmond, Oklahoma.
An associate scout for many organizations, including the Cincinnati Reds, Pittsburgh Pirates, Boston Red Sox, Cleveland Indians, Chicago Cubs and, currently, the New York Yankees, Lallmann has worked with Baseball USA and has spoken at many camps and clinics throughout the southwest United States.
Throughout his three seasons as the Whitecaps pitching coach, Lallmann sent 14 pitchers on to play at the university level and had one selected in the 2017 Major League Baseball draft.
"I am excited to take over a program with such a rich history and to continue to build on the success we have had in the classroom, in the community and on the baseball field," Lallmann said. "My goal is to keep the program moving forward, to strive for championships and to ultimately win a national championship. We want to help our student-athletes reach their fullest potential and to succeed in their programs of study and after graduation."
Lallmann and his wife, Stacy, have three daughters, Katelyn, Taylor and Tanner.