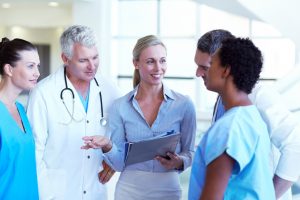 Galveston College received approval from the Southern Association of Colleges and Schools Commission on Colleges Dec. 11 to expand its traditional community-college mission to include the awarding of bachelor's degrees.
Approval to advance from a Level I associate degree-granting college to a Level II bachelor's degree-granting institution was the final step in Galveston College's yearlong journey to offer its first bachelor's degree in 51 years of service to Galveston Island, the state of Texas and the Gulf Coast region – a Bachelor of Applied Science in Healthcare Management.
Texas Governor Greg Abbott signed Senate Bill 2118 on June 12, 2017, which allowed the Texas Higher Education Coordinating Board to authorize certain public two-year colleges to offer baccalaureate degree programs in the fields of applied science, applied technology and nursing.
In November 2017, the Galveston Community College District Board of Regents took a historic vote to create the opportunity for Galveston College to pursue offering the bachelor's degree in Healthcare Management, as well as a Bachelor of Science in Nursing.
The college will launch the Bachelor of Applied Science in Healthcare Management in fall 2019. The nursing degree is still in the planning stages.
"The bachelor's degrees we will offer are designed to complement our two-year degree and certificate programs that prepare students for the workforce and to transfer to four-year universities," said Dr. Myles Shelton, president of Galveston College. "These are degrees when there is a local workforce need either for skills that need specific training and require a bachelor's degree or for someone who has those skills and wants to advance into a management role."
The Bachelor of Applied Science in Healthcare Management prepares graduates for entry- to mid-level management positions in planning, directing and coordinating medical and health services in hospitals, clinics, managed-care organizations, public health agencies or similar organizations.
"The state of Texas and the Galveston-Houston metro area are facing severe shortages of healthcare managers in a variety of areas," said Dr. Cissy Matthews, vice president for instruction at Galveston College. "The new bachelor's degree in Healthcare Management will offer students the opportunity to earn a four-year degree in an affordable, supportive environment that is close to home."
Dr. Matthews said the college is excited to offer its first bachelor's degree in support of the needs of the healthcare industry in the region.
"This is an outstanding opportunity to provide higher education for an industry that is critical to our island and region's economic health," Dr. Matthews said. "Local healthcare workers will now have access to a bachelor's degree that brings with it opportunities for advancement and higher level skills development."
Once students begin classes, the college will host an on-site visiting team from SACSCOC within six months of enrolling students. The purpose of this visiting team will be to review the Healthcare Management program and to make recommendations regarding the needs and priorities of the program.
Dr. Shelton said Galveston College will continue to add baccalaureate programs, while retaining the technical mission that is part of a community college's job — that is, training workers for local industries.
"Our baccalaureate degrees are an affordable win-win for students, business and industry," Shelton said. "I want to thank our local legislators, the governor, and our regents, faculty, staff and community as we begin this next chapter in the evolution of Galveston College."
For more information on the Bachelor of Science in Healthcare Management at Galveston College, visit GC.edu or call (409) 944-4242.