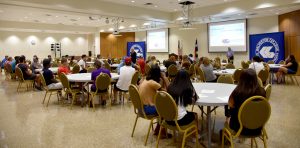 Galveston College welcomed the new members of its Whitecaps softball and baseball teams and their family members to campus July 18 with a full-day athletic orientation in the Abe and Annie Seibel Foundation Wing.
Athletic Director and Head Softball Coach Ken Delcambre said the 2018-19 class of freshmen and transfer students had an opportunity to hear from college staff members, tour the campus, meet with advisers, and get to know their coaches and team members during the orientation.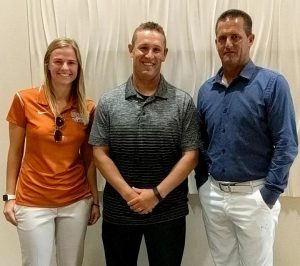 Pictured: Above, Dr. Myles Shelton, Galveston College president, welcomes the student-athletes to Galveston College. Below, Assistant Softball Coach Christa Hartnett, Head Baseball Coach Chris Joblin and Assistant Baseball Coach Kevin Lallman greet athletes at the orientation, which is designed to provide important information about college/student services and student-athlete responsibilities.