Major League Baseball held its 2017 Amateur Draft on June 12-14, 2017 and Galveston College Whitecaps Baseball was well represented.  Two current students and three former students were picked in the 40 round draft, which concluded on Wednesday evening,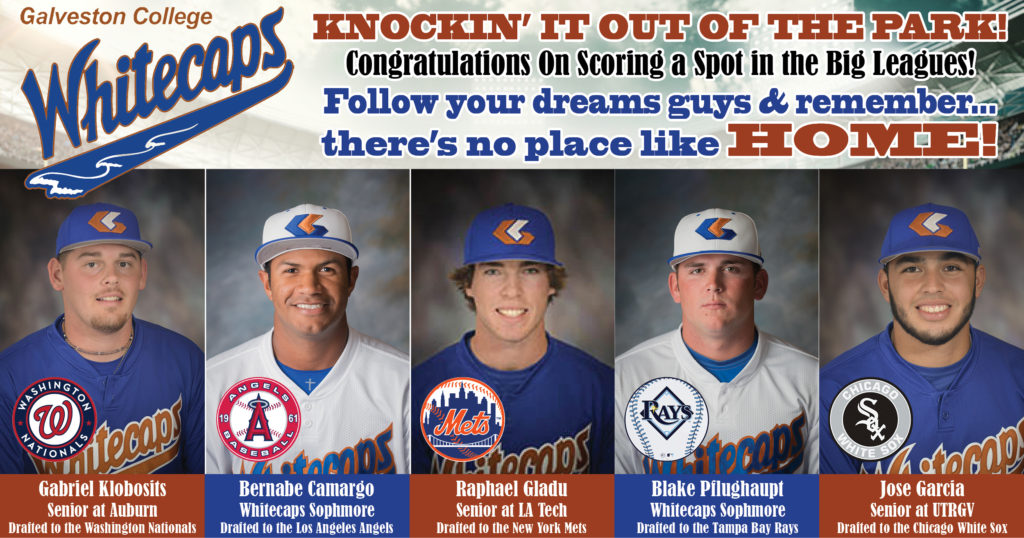 Sophomore LHP Blake Pflughaupt was picked in the 27th round (Pick #799) by the Tampa Bay Rays.  Pflugerhaupt went 7-6 with a 3.80 ERA last season and led the Whitecaps in strikeouts with 71. Sophomore SS Bernabe Camargo was picked in the 28th round (#835) by the Los Angeles Angels.  Camargo hit .393 this past season, with 4 home runs and a team-leading 59 RBI.
A trio of Spring 2015 Whitecaps also heard their name called this week.  LF Raphael Gladu, a senior at Louisiana Tech, was drafted in the 16th round (pick #487) by the New York Mets.  University of Texas – RGV  senior OF Jose Garcia, an NJCAA All-American during his sophomore year here at Galveston College, was drafted in the 25th round (pick #747) by the Chicago White Sox.  RHP Gabriel Klobosits, a senior at Auburn University, was selected in the 36th round (pick #1093) by the Washington Nationals.
Congratulations to those current and former Whitecaps for continuing their dream of playing in the big leagues.  We are all very proud of you!