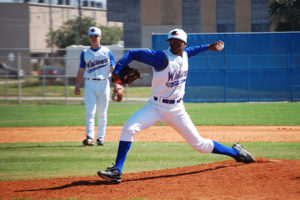 The Galveston College Whitecaps baseball team will face off against Temple College in a 2 p.m. season opener Friday, Jan. 26, at Bernard Davis Field located at 83rd Street and Frank Giusti Drive, Galveston, Texas.
"We have an outstanding group of student-athletes this year. We are returning a handful of sophomores that should provide great leadership for the large group of very talented freshmen," said six-year Head Coach Chris Joblin. "We have been working hard since August and are very excited about opening day coming soon. We look forward to another successful season on the field."
The 2017 Whitecaps finished fifth at the National Junior College Athletic Association (NJCAA) Region XIV Tournament and had a 35-22 overall season record.
During the course of the last five years, the Whitecaps have sent 31 players on to NCAA Division 1 level play and had seven players drafted in the Major League Baseball draft and another player sign as a free agent.
Under Coach Joblin's leadership, the Whitecaps have continued academic excellence with an impressive cumulative team grade-point average over 3.0 every year. Team members also volunteer at a number of community and non-profit events throughout the year.
This year's 56-game regular season schedule includes dates against Brookhaven College, Seward County Junior College, Arkansas Baptist College, Northeast Texas Community College, Grayson County College, Alvin Community College, Blinn College, San Jacinto College, South Suburban College of Chicago, Illinois, Laredo Community College, Wharton County Junior College and Baton Rouge Community College.
Additional games may be added to the schedule. Updates will be posted to the online schedule at gc.edu.
The Region XIV tournament is set to be played May 11-15 in Lufkin, Texas. The winner of the district championship would advance to the NJCAA Division I World Series to be played in Grand Junction, Colorado.
Galveston College competes as a member of the NJCAA and sponsors two intercollegiate athletic teams, including baseball and softball.
For more information on Galveston College Athletics and the complete Whitecaps baseball schedule, please visit Whitecaps Athletics.