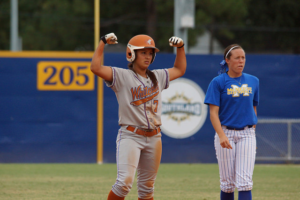 The Galveston College Whitecaps softball team will host the 2018 Galveston College Island Invitational on Friday, February 2, and Saturday, February 3, beginning at 9 a.m. each day at Lassie League Field, 2506 83rd St., Galveston, Texas.
The Whitecaps will take on Odessa College at 9 a.m. on Friday at field 2 in the first round, which will feature teams from throughout Texas and the southern U.S.
Teams in the round-robin tournament also include Blinn College, Brenham; Chipola College, Marianna, Florida; Alvin Community College; Snead State Community College, Boaz, Alabama; San Jacinto College, Pasadena; Navarro College, Corsicana; University of Houston-Victoria; Seminole State College, Seminole, Oklahoma; Lamar State College Port Arthur;  and Kilgore College.
Now entering his 20th year at Galveston College, founding softball Head Coach and Athletic Director Ken Delcambre and his assistants have amassed over 700 wins in the past 19 years.
Coach Delcambre has coached 10 NJCAA All-Americans and four NFCA All-Americans, and three of his former players represented their countries' national teams in the 2008 Olympics in Beijing, China.
In 2002, Coach Delcambre and his staff were awarded with the NFCA Regional Coaching Staff of the Year award.
Coach Delcambre says he has high expectations for his team this year.
"The returning players have made great strides since joining the team last year, and the incoming freshmen have added speed, power and command to the well-balanced sophomore group," he said. "I fully expect the team to make it to the regional tournament again this year, and I believe they are very capable of making a run for the national title."
Galveston College competes as a member of the NJCAA and sponsors two intercollegiate athletic teams, including softball and baseball.
For more information on Galveston College Athletics and the complete Whitecaps softball schedule, please visit the official website.
The complete 2018 Galveston College Island Invitational tournament schedule is as follows:
2018 Galveston College Island Invitational
| | | | |
| --- | --- | --- | --- |
| Friday, February 2 | Field 1 | Field 2 | Field 3 |
| 9 a.m. | Blinn vs. Chipola | Galveston vs. Odessa | Alvin CC vs. Snead State |
| 11 a.m. | San Jac vs. Navarro | UH-Victoria vs. Seminole State | LPSA vs. Kilgore |
| 1 p.m. | Blinn vs. Odessa | Galveston vs. Snead State | Alvin CC vs. Navarro |
| 3 p.m. | San Jac vs. Seminole State | UH-Victoria vs. Kilgore | LSPA vs. Chipola |
| 5 p.m. | Blinn vs. Snead State | Galveston vs. Navarro | Alvin CC vs. Seminole State |
| | | | |
| Saturday, February 3 | Field 1 | Field 2 | Field 3 |
| 9 a.m. | San Jac vs. Kilgore | UH-Victoria vs. Chipola | LSPA vs. Odessa |
| 11 a.m. | Blinn vs. Navarro | Galveston vs. Seminole State | Alvin CC vs. Kilgore |
| 1 p.m. | San Jac vs. Chiploa | UH-Victoria vs. Odessa | LSPA vs. Snead State |
| 3 p.m. | Blinn vs. Seminole State | Galveston vs. Kilgore | Alvin CC vs. Chipola |
| 5 p.m. | San Jac vs. Odessa | UH-Victoria vs. Snead State | LSPA vs. Navarro |