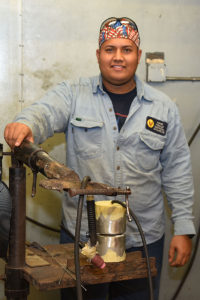 Victor Gomez is a third semester welding technology student at Galveston College. In December he will earn his third certification, Advanced Level Two, and will begin his career as a welder.
Gomez, who is a graduate of Texas City High School, chose to pursue a technical degree at Galveston College in order to more quickly enter the workforce. "I was a good student in high school, but I wanted to find a good job fast. My uncle has been a pipefitter for almost a decade and he encouraged me to look into welding."
Like many Galveston College students, Gomez has embraced his training and excelled at mastering the skills and curriculum taught in the Welding program. In addition to maintaining a 3.7 GPA, he earned the prestigious ExxonMobil Community College PetroChem Scholarship, and he is one of two people in his class to earn an advanced certification from the American Welding Society.
Gomez is just one of many students who have chosen to seek training in a high-demand technical field. Recently, the Texas Higher Education Coordinating Board launched the 60x30Tx program with the goal of having 60 percent of Texans, ages 25-34, earn a certificate or college degree by 2030. In 2015, only 38 percent of young Texans earned a college degree or certificate. A 2012 report from the Organization for Economic Co-operation found that the skilled labor force in Texas could not keep up with the demand.
In Texas and nationally the need for trained welders is high. According to the National Welding Society, by 2024 the United States will need 12,870 new welders per year to keep up with demand.
"The average welder is 57 years old and the need for new, trained workers in this industry is great," said Vera Lewis Jasper, Dean of Technical and Professional Education at Galveston College. "The goals set by 60x30Tx will help Galveston continue to build a highly skilled workforce and meet the changing needs of our community."
"I chose welding because it is hands-on and there are lots of job opportunities out there," said Gomez. "I have a new baby and wanted to find a career where I could earn enough to make a better life for him."
To help students meet their academic goals, Galveston College offers a variety of services to professional and technical education students. Free tutoring and preparation for the Texas Success Initiative placement exam are available for all students as well as assistance creating a resume and looking for a job.
"I've already started looking for a job for when I graduate in December. I didn't have a resume so I was really relieved that there was someone to help me make one while I was on campus every day," said Gomez.
The Galveston College Welding Technology program will launch a new, beginners night session in January. If successful, students in the night program will earn a level one certificate by May and will have the opportunity to continue the program to earn more advanced certificates and an associate's degree.
To learn more about the Galveston College night welding class call 409-944-1401 or go to www.gc.edu/programs-and-courses/workforce-programs/welding-technology.