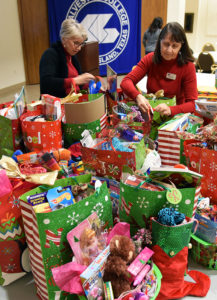 Each year the Galveston College Staff Professional Development Committee selects a monthly session to be presented throughout the academic year. This year the Committee members decided that the December session should be "Giving Back to Our Community."
The College contacted the Galveston Ronald McDonald House and spoke with Janie Puentes, the House Manager. Ms. Puentes explained that they may have as many as 15 families in December. The items that are always needed include: non-slip socks, knit beanie hats, and sweat pants for the children in the hospital. Small toys, art supplies, and small snack items for the families are also needed.
The Committee set out to gather enough items, donated from the College community, to fill 15 gift baskets for the families. The generosity was unprecedented – 15 large gift baskets, plus 15 giant gift bags were filled to the brim and still more items were collected to fill several large boxes! One faculty members wife knitted over 15 beanie hats for the children, and another's cub scout group donated cases of crayons and boxes of toys.
It was a wonderful day of fun and fellowship when the Galveston College faculty and staff came together and gave back to the community they serve.