Galveston College held graduation ceremonies for its thirtieth Law Enforcement Academy featuring 13 graduates that have all found placement in law enforcement agencies across the Houston-Galveston area. Among the many supporters, family members and friends in the audience was a very special lady that had been with Galveston College's Law Enforcement Academy since the beginning. College officials, students and guests took time to honor Gladys Jones with the Galveston College Law Enforcement Academy's first ever "Legacy Award" recognizing Jones' many years of service as an administrative assistant that helped to organize the Law Enforcement Academy classes that have produced thirty years of dedicated , quality law enforcement professionals. Criminal Justice and Law Enforcement Academy Director Mary Pyle said "No one but Gladys Jones could have made such a long term impact on the safety and protection of our area citizens by committing so many hours and so much energy to the Law Enforcement program at Galveston College."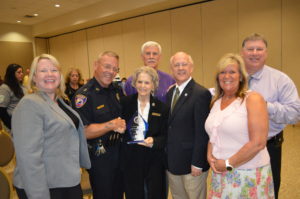 Pyle continued the program of commencement as the Master of Ceremonies by introducing Galveston College President, Dr. Myles Shelton, who gave welcoming remarks to family and friends of the graduates. Shelton commended the work of the program instructors and the cadets and congratulated the graduates as they launched their careers as Galveston College's 50th anniversary celebration winds down.
Chief Brad Heiman of the Jamaica Beach Police Department spoke as a representative of the Law Enforcement Academy Advisory Board and told the audience that law enforcement service and first responder service was "a calling" rather than a career. He welcomed the thirteen graduates to the ranks of law enforcement service. Graduating cadet Aaron Jarma spoke on behalf of the class and gave thanks to family members, instructors and Galveston College for the opportunity of attending the academy.
A presentation of special awards included the Top Gun award for the best marksmanship on the firing range by cadets Juan Moran and Benjamine White. The top academic achievement award went to Juan Moran. Galveston County Sheriff's Office Sergeant Mike Bell and William Kilburn, who served as instructors in the Law enforcement Academy program made the presentation of certificates to the graduates.
The Galveston College Law enforcement Academy Graduating Class Number 30 included Felix Cora, DeAnna Durrett, William Hardman, Aaron Jarma, Elric King, Nathan King, Mitchell Lewis, Juan Moran, Richard Palacios, Carlos Ramos, Martin Silvas, Erik Tucker, and Benjamine White.