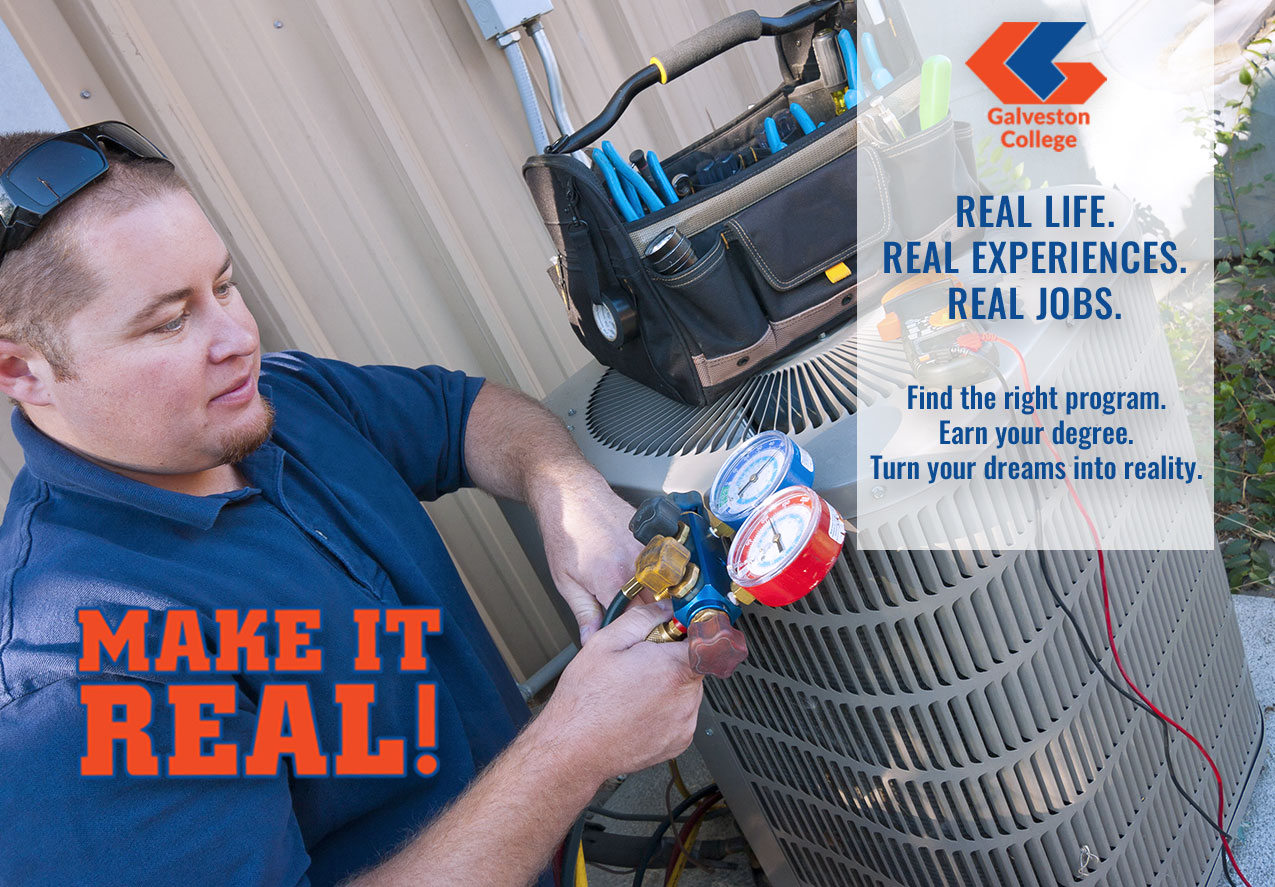 Get Your Career in HVAC & Refrigeration Started at Galveston College!
Upgrade your earning potential with a certificate or degree from Galveston College!
Why HVAC & Refrigeration?
Graduates of the HVAC & Refrigeration program should be qualified to pass entry-level certification tests required to enter the very high demand occupations in HVAC & Refrigeration Maintenance, Fabrication, Design, and Management, all of which have excellent earning potential and career growth! Get Hands-on training with the same equipment used in the field and be ready to start your career!
Degrees and Certificates
Associate of Applied Science (AAS) – Heating, Ventilation, Air Conditioning & Refrigeration
Certificate – Heating, Ventilation, Air Conditioning & Refrigeration – Entry Level
Certificate – Heating, Ventilation, Air Conditioning & Refrigeration – Advanced Level 1 Technology
Certificate – Heating, Ventilation, Air Conditioning & Refrigeration – Advanced Level 2 Technology
Career Opportunities
Residential / Commercial Technician
Industrial or Business Maintenance Technician
HVAC System Designer
Independent Business Owner or Contractor
Sales Consulting and Service Management
Parts and Supplies Distributor or Fabricator
Fully accredited, two-year community college
More than 3,000 students enrolled each year
Specialized academic, technical and professional programs
Developmental programs enable success for all students
47 Associate (2-year) & Bachelor Degree Programs / Majors
23 Certificate Programs
Universal Access Scholarships available for qualifying
Galveston students
Smaller class sizes for greater student-teacher engagement