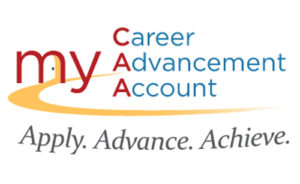 Eligible spouses of active-duty service members now have an opportunity to enroll in their choice of 95 courses and programs offered by Galveston College Continuing Education as part of the Military Spouse Career Advancement Accounts (MyCAA) workforce development program.
The Department of Defense MyCAA program provides up to $4,000 of financial assistance to eligible military spouses of active-duty service members in pay grades E1-E5, W1-W2 and O1-O2 who are pursuing a license, certification or degree in a portable career field and occupation.
"We are so excited and proud to be a participant in the MyCAA program," said Dr. Rebecca Stout, director of Continuing Education at Galveston College. "The primary focus of MyCAA is to prepare military spouses for employment at their next duty station. The courses are completely online, and they are extremely flexible and self-paced."
Galveston College has an extensive catalog of programs offered through MyCAA, including 24 healthcare-related courses, 21 accounting, business and leadership courses, 14 career and hospitality courses, green and renewable energy courses, industrial and skilled trade courses, legal and criminal justice courses, multimedia and graphic design courses, programming and web applications courses, and technology and computer programs.
Most of the programs can be completed in six months although some of the programs allow up to 18 months for completion.
To view the course offerings, visit https://gc.edu/continuing-education/leisure-learning/online-learning/.
For additional information, contact Galveston College Continuing Education at CE@gc.edu.