Students who plan to apply to Galveston College Nursing programs in 2022 must attend a mandatory orientation session via Zoom at 7 p.m. on one of the following dates:
Associate Degree Nursing Program
(Choose One Date)
Nov. 17
Dec. 8
Jan. 19
Feb. 16
Vocational Nursing Program
(Choose One Date)
Nov. 10
Dec. 6
Jan. 5
Please visit the Galveston College Nursing website at https://gc.edu/programs-and-courses/workforce-programs/nursing/ for the Zoom links.
For additional information, please contact Dyone Little in the Galveston College Nursing program at dlittle2@gc.edu.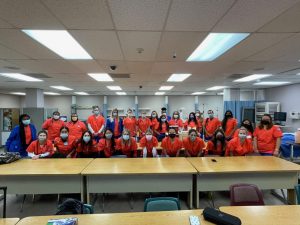 Above: First-year students in Galveston College's Associate Degree Nursing program take time out for a photo.