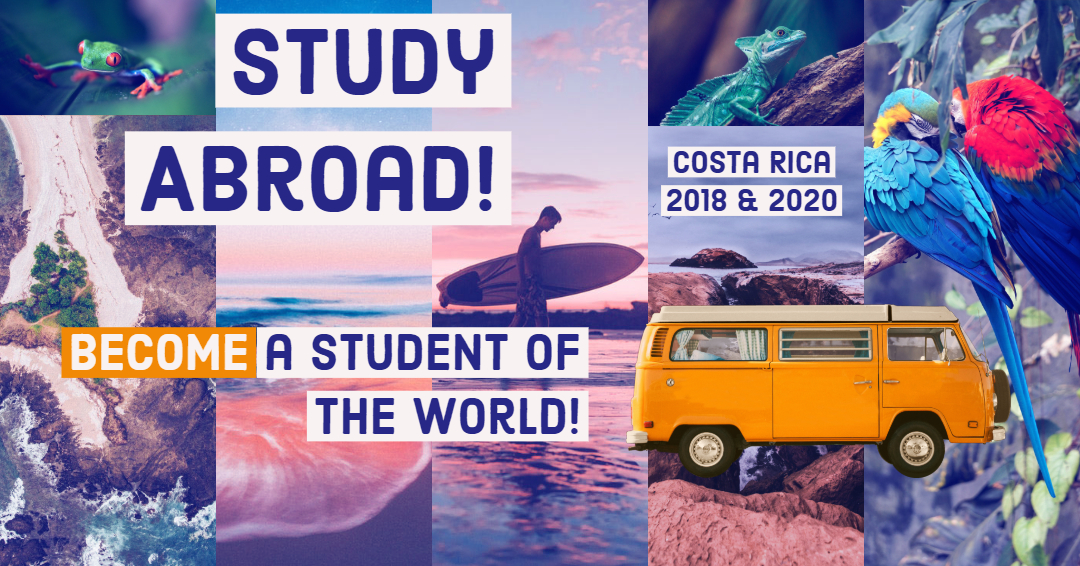 Apply for the Costa Rica 2020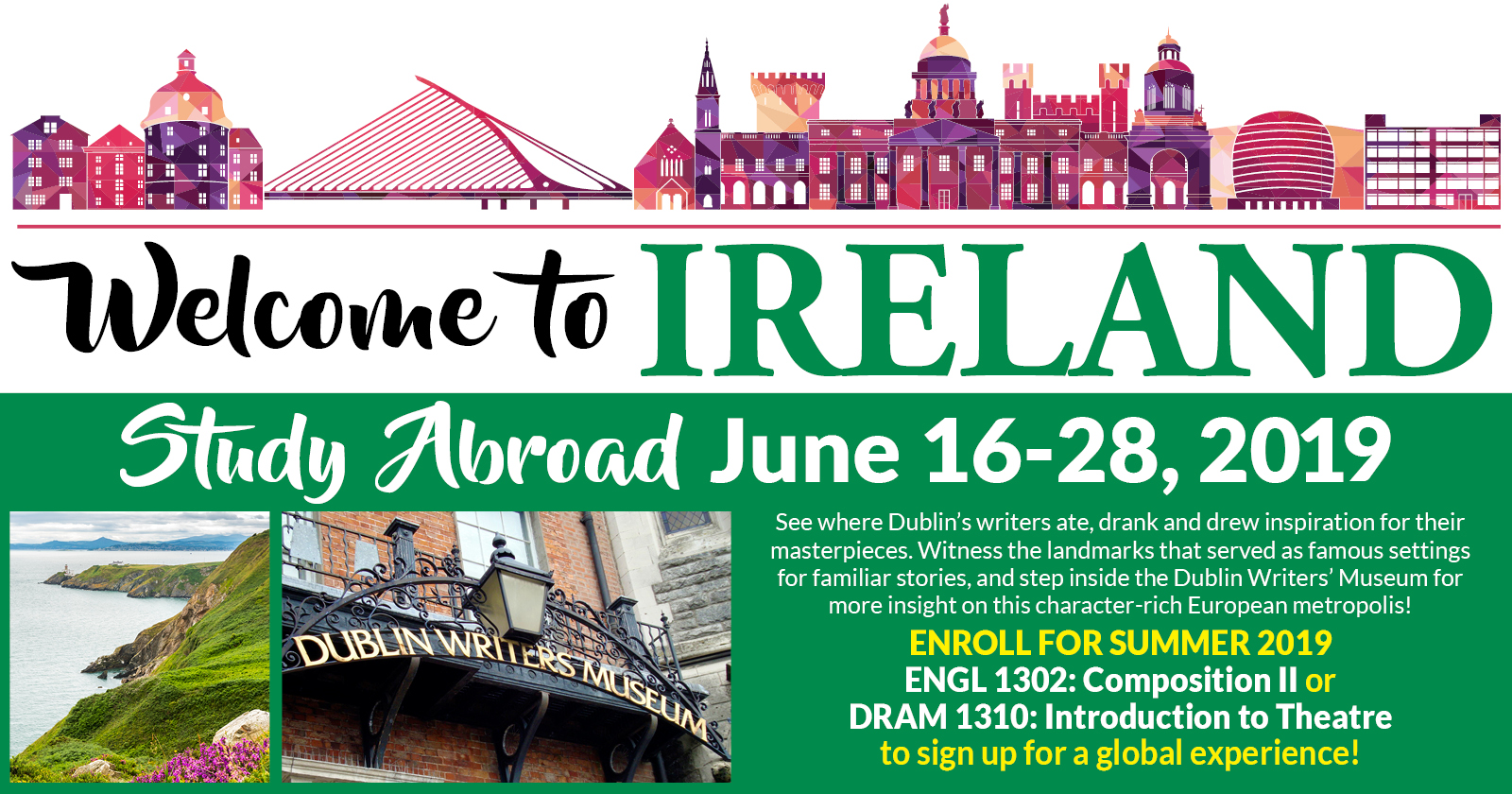 Apply for the Ireland 2019
Become a Student of the World!
Explore the world with a Study Abroad Course that combines college credit for a core curriculum requirement with an international experience. You will earn college credit, experience new cultures, develop new skills, and visit unforgettable places.
Students are encouraged to study abroad regardless of major, class standing, socioeconomic background, or foreign language experience. Start planning now with one of Galveston College's Study Abroad courses!
Galveston College is one of eight Gulf Coast colleges participating in the Texas Gulf Coast International Education Consortium.
Inquire about Studying Abroad
Ireland Study Abroad 2019 Details
See where Dublin's writers ate, drank and drew inspiration for their masterpieces. Witness the landmarks that served as famous settings for familiar stories, and step inside the Dublin Writers' Museum for more insight on this character-rich European metropolis!
Enroll for Summer 2019
ENGL 1302: Composition II or
DRAM 1310: Introduction to Theatre
to sign up for a global experience!
PAYMENT OPTIONS AVAILABLE
Ireland 13 day Itinerary Summer I 2019
Day 1
Departure
Sunday, June 16th

Depart Home for Dublin, Ireland

Day 7
Galway
Sunday, June 22nd

Breakfast & Day Briefing
Cliffs of Moher & Burren Day Trip
Evening – Free Time & Cultural Immersion

Day 2
Dublin
Monday, June 17th

Arrive Dublin, Check-In
Orientation Walking Tour
National Museum Visit
Welcome Dinner & Program Orientation

Day 8
Galway
Monday, June 24th

Breakfast & Day Briefing
Free Day in Dublin
Archeological Museum Visit or
Howth Cliffs Excursion

Day 3
Dublin
Tuesday, June 18th

Breakfast & Day Briefing
Dublin Walking Tour (Trinity College & Book of
Kells)
Afternoon Free Time
Evening Literary Pub Tour

Day 9
Dublin
Monday, June 24th

Breakfast & Day Briefing
Free Day in Dublin
Archeological Museum Visit or
Howth Cliffs Excursion

Day 4
Dublin
Wednesday, June 19th

Breakfast & Day Briefing
Glendalough – Wicklow – Kilkenny Day Trip,
Return to Dublin
Abbey Theater Performance

Day 10
Belfast
Tuesday, June 25th

Breakfast & Day Briefing
Transfer to Belfast
Black Taxi Tour
Belfast Group Dinner

Day 5
Cork
Thursday, June 20th

Breakfast & Day Briefing
Bus Transfer to Cork
Cork Historical & Cultural Walking Tour

Day 11
Belfast
Wednesday, June 26th

Breakfast & Day Briefing
Giant's Causeway and Carrick-A-Rede Bridge
Evening in Belfast

Day 6
Galway
Friday, June 21st

Breakfast & Day Briefing
Visit Blarney Castle, Transfer to Galway
Galway Walking Tour
Fish n Chips Dinner

Day 12
Dublin
Thursday, June 27th

Breakfast & Day Briefing
Return to Dubin
Free Time in Dublin
Farewell Dinner & Program Closing

Day 13
Departure
Friday, June 28th
Breakfast & Day Briefing
Airport Transfer
Depart Dublin for Home
Costa Rica 14 day Itinerary Summer 2020
Day 1
Departure

 June 

Depart to Costa Rica
Arrive in San Jose Airport
Depart to Soltis Center
Arrive to the Soltis Center
Check In at the Soltis Center
Soltis Center room and board
Transportation from San Jose Airport to Soltis Center

Day 8
San Isidro

Breakfast at the Soltis Center
Academic Activities
Lunch at the Soltis Center
Academic Activities
Dinner at the Soltis Center
Soltis Center room and board

Day 2
San Isidro

Breakfast at the Soltis Center
Welcome and Orientation talk
Guided Hike to Rainforest/ waterfall of the Center
Lunch at the Soltis Center
Academic Activities
Dinner at the Soltis Center
Soltis Center room and board

Day 9
San Isidro

Breakfast at the Soltis Center
Depart to La Fortuna
Tour Arenal Volcano National Park
Lunch in La Fortuna (Que Rico Restaurant)
Free time Sourvenir in La Fortuna
Dinner at the Soltis Center
Soltis Center bilingual guide service
Soltis Center room and board
Transportation from Soltis Center to La Fortuna area (06/09/2018)

Day 3
San Isidro

Breakfast at the Soltis Center
Academic Activities
Lunch at the Soltis Center
Academic Activities
Dinner at the Soltis Center
Soltis Center room and board

Day 10
San Isidro

Breakfast at the Soltis Center
Free time
Lunch at the Soltis Center
Free time
Free time
Soltis Center room and board

Day 4
Day 5
San Isidro

Breakfast at the Soltis Center
Depart to La Fortuna
Safari Float on Peñas Blancas River
Lunch at the Soltis Center
Academic Activities
Dinner at the Soltis Center
Soltis Center room and board
Transportation from Soltis Center to La Fortuna area (06/06/2018)

Day 11
San Isidro

Breakfast at the Soltis Center
Academic Activities
Lunch at the Soltis Center
Academic Activities
Dinner at the Soltis Center
Soltis Center room and board

Day 6
Day 7
San Isidro

Breakfast at the Soltis Center
Academic Activities
Lunch at the Soltis Center
Academic Activities
Dinner at the Soltis Center
Guided Night tour Rainforest
Soltis Center room and board

Day 12
San Isidro

Breakfast at the Soltis Center
Depart to Peñas Blancas Hydro-electric Project
Visit Hydro-electric proyect
Lunch at the Soltis Center
Academic Activities
Dinner at the Soltis Center
Soltis Center room and board
Transportation from Soltis Center to San Isidro (06/12/2018)

Day 13
San Isidro

Breakfast at the Soltis Center
Depart to Jaco Beach
Stop Tarcoles River (Crocodiles)
Lunch on the way
Free time
Return to Soltis Center
Dinner at local restaurant 
Soltis Center room and board
Transportation from Soltis Center – Jaco – Soltis Center (06/13/2018)

Day 14

Breakfast at the Soltis Center
Academic Activities
Lunch at the Soltis Center
Academic Activities
Dinner at the Soltis Center
Soltis Center room and board