How to Access Your Student Email – @WHITECAPS
As a student, you will receive Galveston College announcements and notifications through your @Whitecaps.gc.edu email account. Your @Whitecaps.gc.edu student email account is the primary and official means of communication between Galveston College and students. Your @Whitecaps account also gives you access to an online version of Microsoft Office, with 25GB of storage, at no additional fee to you.
Your GC Network User Name and Password
If this is your first time logging into the Whitecaps Portal, your user name will be in the format of "GC0123456", where 0123456 is the student ID#, and your password will be your date of birth in 6-digit MMDDYY format (010190 for Jan 1, 1990).  If you have logged into the Whitecaps Portal before, enter your GC network user name and the password you used previously.
To sign in to your GC Student email for the first time, please follow the instructions below:
Activating Your GC Student Email @Whitecaps Account
Step 1: Login to the Whitecaps Portal, found on the Galveston College Webpage – www.gc.edu, with your GC network user name and password.
Step 2: To view and retrieve your email address, click on VIEW MY @ WHITECAPS LOGIN INFORMATION.
Once you have obtained your @Whitecaps Email address and password,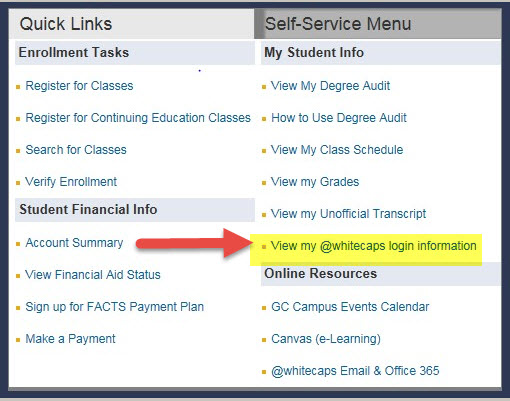 Step 3: Click on the "Quick Links" tab, and then select @whitecaps  Email & Office 365.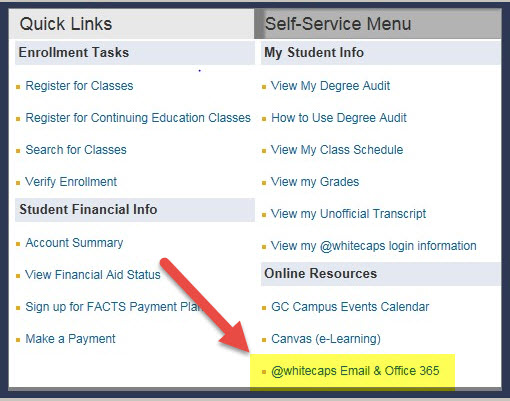 Step 4: You will then be taken to an external site, Microsoft Office 365.  Your email address will be the user id and the default password will be date of birth (mmddyy).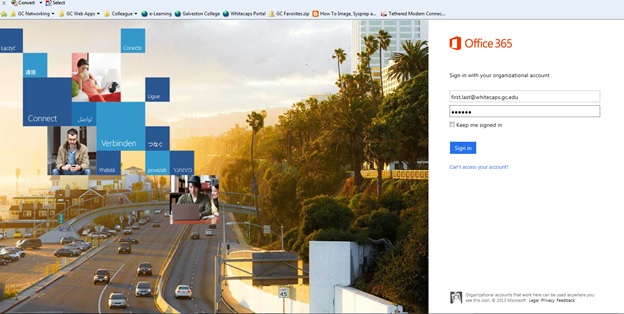 Step 5: You will then be asked to go through steps to complete the setup of your account.  You will be asked to change your password to a STRONG password, which must be at least 8 characters long, with at least 1 capital letter and at least 1 numeric character.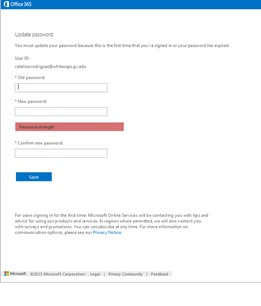 Step 6: Once complete, it will take a few moments for account completion, and then you will be taken to your new @Whitecaps Email.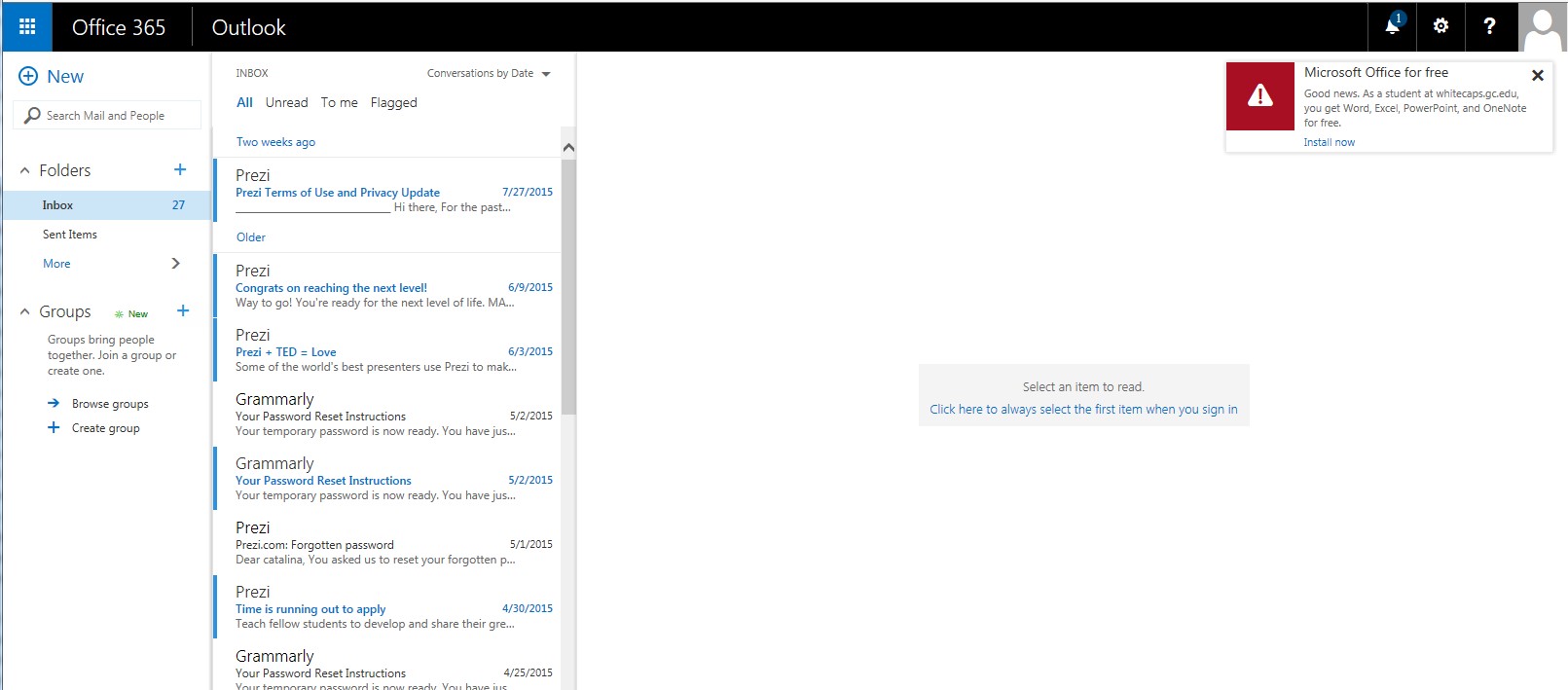 Office 365 – Online Microsoft Word, Excel, Power Point, Outlook, and OneNote
Your @Whitecaps account also gives you access to Office 365, an online web-enabled version of Microsoft Office.  You will be able to use Microsoft Word, Excel, Power Point, Outlook, and OneNote.
To access Office 365, follow the steps below:
Step 1: Once logged into your @whitecaps account, click the Office 365 apps link in the top menu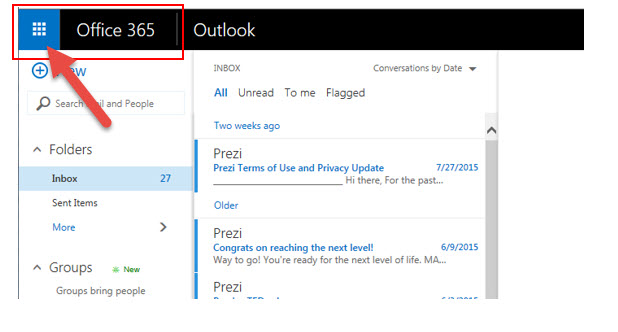 Step 2: You will be taken to Office 365 – and the first time you access it, it takes a few moments as your @whitecaps account is associated with your Office 365 storage.
Step 3: Once the Office 365 storage has been assigned, you'll be presented with your Document storage.

Step 4: You're now ready to work with Microsoft Office 365! To create a new document, simply click on 'new document' and choose what type of document you want to create.
You are able to create, edit, print, and share your work from Office 365. Please contact your instructor on how they would like to receive your assignments
Receive Your Student Email On Your Phone
Your @Whitecaps email is available for access on your mobile device.  The basic setups follow.  As smart phones and mobile devices differ greatly by manufacturer and operating system, these are listed as a guide. More detailed information is available within the Help System of Office 365.
Step 1:  User Account: firstname.lastname@whitecaps.gc.edu, unless otherwise specified in your Whitecaps email tab on your Whitecaps portal page.
Step 2:  Incoming Settings for IMAP Configuration
Server Name: outlook.office365.com
Port: 993
Encryption Method: SSL
Step 3:  Outgoing Email Settings for SMTP:
Server Name: smtp.office365.com
Port: 587
Encryption Method: TLS
Should you encounter difficulty, please consult the Help Section of Office 365, or visit the IT Service Desk in R-120.
Contact Student Services
Deon Botha, Director of Advising and Counseling