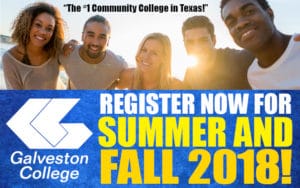 Registration for the 2018 summer and fall semesters will open on Monday, April 16, at Galveston College.
Registration hours are from 8 a.m. to 7 p.m. on Mondays and Tuesdays and 8 a.m. to 5 p.m. Wednesday through Friday.
Summer I classes begin Monday, June 4. Summer II classes begin Monday, July 9. The fall 2018 semester begins Monday, Aug. 27.
New students can apply for admission at https://gc.edu/new-students or applytexas.org
To search for summer and fall classes, visit https://gc.edu/search-for-classes
For more information, contact the Galveston College Office of Admissions at (409) 944-1230 or adm@gc.edu.
###