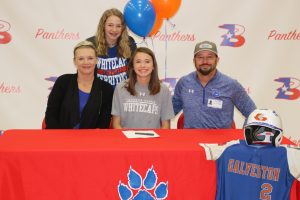 The Galveston College softball team welcomes outfielder Aspyn Grossman to the Whitecaps family.
Grossman, a standout senior at Bullard High School, signed with the Whitecaps on Nov. 5 at a ceremony at her high school in Bullard, Texas.
Bullard High Head Softball Coach Megan Dobrinski and the Grossman family joined Galveston College Head Softball Coach and Athletic Director Christa Hartnett for the signing ceremony.
As a sophomore, Grossman hit .414 with 40 runs scored and 15 stolen bases. As a junior, she hit .421 with 36 runs scored and 28 stolen bases.