Alzheimer's Disease and Other Dementias: Update on Prevention and Treatments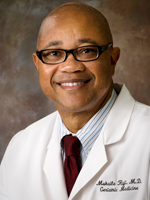 Please join us on October 10, 2017 for the first presentation for the 2017 Galveston College Lecture Series with guest speaker Dr. Mukaila Raji. Dr. Raji is Professor and Director, Division of Geriatrics in the Department of Internal Medicine and Senior Fellow in the Sealy Center on Aging at the University of Texas Medical Branch.
Mukaila A. Raji attended the medical school at the University of Ife in Nigeria. He also completed his internal medicine residency at Washington Hospital Center in Washington, DC, USA, a Geriatric Fellowship at Duke University in Durham, NC, USA, and Master of Science Degree in Pharmacology at the University of Alberta in Canada. Dr. Raji is board certified in Internal Medicine and Geriatrics. He is a tenured Professor and Chief of Geriatric Medicine at the University of Texas Medical Branch in Galveston. He is a Co-PI or Co-I on several federal grants. He has published over 85 peer-reviewed articles and several book chapters in the areas of cognitive aging and disability, health policy, and geriatric pharmacology. Dr. Raji is a recipient of the Sir William Osler Excellence in Clinical Teaching Award, the America's 2017 Top Doctor in Geriatric Medicine, and the 2016 Top Texas Physician Awards. He is Program Director of UTMB Geriatric Medicine Fellowship. Dr. Raji teaches medical students, residents, and geriatrics fellows and serves as attending faculty on the Acute Care for the Elders Unit, Geriatric Consults, and Geriatric Clinic Service.