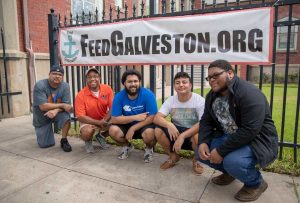 Ten students from the Galveston College Male Success Initiative volunteered at the Feed Galveston packing event on Saturday, Sept. 22, working with the First Lutheran Church of Galveston and the Galveston Food Bank to help pack 50,0000 meals for the homeless in Galveston County. This was the group's first event of the year.
The Male Success Initiative is designed for students who wish to strengthen their leadership and professional development skills. Open to both male and female students, it helps members build character by identifying their purpose and serving others.
For more information and to join the Male Success Initiative at Galveston College, contact Pierre Banks at pbanks@gc.edu, Deon Botha at dbotha@gc.edu or Ron Crumedy at rcrumedy@gc.edu.