In recognition of National Autism Awareness Month in April, "Autism: History, Gentlemen, Giants and Villains" will be the focus of a presentation in the 2017-18 Galveston College Lecture Series on "The Brain" on Thursday, April 26, at 7 p.m. in Room 207 of the Fine Arts Building on the Galveston College campus, 4015 Avenue Q, Galveston, Texas.
The guest speaker will be Dr. Dwight V. Wolf, professor of psychiatry in the Child and Adolescent Division of the Department of Psychiatry and Behavioral Sciences at UTMB Health.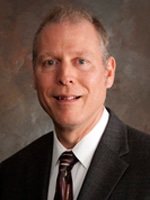 Dr. Wolf is the vice chair of the Department of Psychiatry and an Osler Scholar in the McGovern Academy of Oslerian Medicine at UTMB. He attended Lamar University in Beaumont, Texas, graduating summa cum laude with a Bachelor of Arts in biology with a minor in chemistry. He attended medical school at UTMB, graduating in 1986, and completed his residency in general psychiatry in 1993 and his fellowship in child and adolescent psychiatry in 1995.
Dr. Wolf joined the faculty of the Department of Psychiatry upon completion of his fellowship. He has served as the department's outpatient medical director since 2000 and has been the chair of Institutional Research Board-2 since 2010. He was appointed vice chair of the Department of Psychiatry in 2015. He maintains an active private practice and provides clinical supervision of the Child Psychiatry fellows and medical students in the UTMB Psychiatry clinics and the St. Vincent's Clinic.
Dr. Wolf is certified by the American Board of Psychiatry and Neurology in General and Child and Adolescent Psychiatry. His areas of research interest include team-based learning in medical student education and the use of popular cinema in medical student psychiatry education.
The free lecture is open to the public.
###