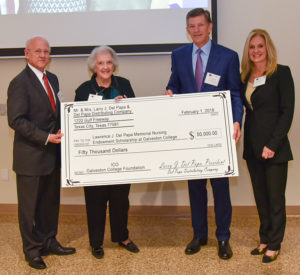 More than 200 scholarship recipients and donors were feted in Mardi Gras fashion at the Fourth Annual Galveston College President's Reception Feb. 1 in the Abe and Annie Seibel Foundation Wing.
Galveston College President Myles Shelton and Maria Tripovich, director of Development and the Galveston College Foundation, honored Larry Del Papa, JoAnn Del Papa, Joan Del Papa and Del Papa Distributing Company for the establishment of the Lawrence J. Del Papa Memorial Nursing Endowment Scholarship.
Galveston College Regent Armin and Dr. Gail Ayers Cantini were honored for their contributions in establishing the Lynn Levin Cantini Memorial Nursing Assistance Endowment.
Charli Rohack, wildlife rehabilitator and master falconer, and Dr. Jim Rohack, emeritus professor of Medicine and Humanities at Texas A&M University, discussed their work with local birds and future opportunities for students who are interested in careers in engineering and related sciences affecting habitats and the eco system.
Dr. Laimutis Bytautus, assistant professor of Chemistry at Galveston College, shared an overview of the opportunities available to students at Galveston College.
The event celebrated the success of 297 scholars supported by 184 donors. Awards reflected not only the renowned Galveston College Foundation Universal Access Community Endowment Scholarship, but additional private, named and endowed scholarship funds from area families, local foundations, regional corporations, and third-party scholarships from fraternities, sororities, county and Island employers, as well as state and national civic organizations.
Private philanthropic gifts totaled over $373,000 in support for students who excel academically in their chosen course of study as they prepare for careers in Nursing and/or Health Sciences, Elementary Education, Applied Science, Applied Technology, Mathematics, Engineering, Fine Arts, Humanities, Business Administration, Culinary Arts and more.
For more information on the Galveston College Foundation and giving opportunities, please contact Maria Tripovich at (409) 944-1306 or mtripovi@gc.edu.