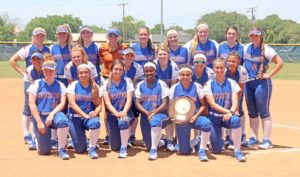 Galveston College clinched a trip to the National Junior College Athletic Association Division I Softball Championship tournament on Sunday afternoon by defeating No. 5 nationally ranked Tyler Junior College in day 3 of the Region XIV Softball Tournament hosted by Lamar State College Port Arthur.
Galveston and Tyler worked their way through the winner's bracket of the four-day tourney, meeting Sunday afternoon to determine who would punch a ticket to Utah and the national tournament later this month. Galveston came away with the 6-5 decision.
Monday's championship game featuring Galveston and Tyler was halted in the second inning after an injury on the field.
Region XIV officials and the NJCAA have declared the game a no-contest since both teams have qualified for nationals. Galveston is the XIV champion; Tyler is the runner-up.
The NJCAA Division I Softball Championship is set for May 16-19 at Canyons Complex in St. George, Utah.
Photo courtesy Lamar State College Public Information