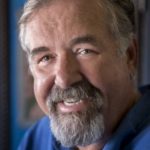 On Thursday, October 5, 2017 we held the kick-off event of the "Coastal Culinary" Lecture Series featuring Robb Walsh. Walsh, a three-time James Beard Journalism Award winner, co-founder of Foodways Texas, and a partner in El Real Tex-Mex Cafe, discussed Boudin Kolaches: The Creolization of Our Local Culture.
Walsh, who is also the co-founder of Galveston Eats, a non-profit dedicated to preserving Galveston's food culture, spoke to a full audience, where attendees had the opportunity to sample the savory pastry.
The event was funded by a generous grant from The National Endowment for the Humanities.