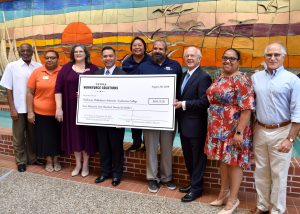 Wallenius Wilhelmsen Solutions has partnered with Galveston College to provide job training using a $60,926 Skills Development Fund grant from the Texas Workforce Commission (TWC). The grant will benefit workers in the Workforce Solutions Gulf Coast area.
"The partnership between Wallenius Wilhelmsen Solutions and Galveston College on this Skills Development Fund grant will benefit both the local community and its workforce," said TWC Commissioner Representing Labor Julian Alvarez. "Our labor force is among the most talented and skilled in the world, and we continue to seek and implement strategies to improve the skills of Texas workers."
This grant will be used to provide custom training to 34 new and incumbent workers for industry-related topics with focused instruction on transportation and warehousing. Trainees will include accessory installers, body shop supervisors and inspectors. Upon completion of training, the workers will receive an average hourly wage of $19.58.
"We are fortunate to have a state-supported Skills Development Fund that provides local customized training opportunities for Texas businesses and their workers to increase skill levels and wages," said Dr. Myles Shelton, president of Galveston College. "We are so excited to be one of the 2018 grantees for this initiative to provide training opportunities for our partner WWS right here in Galveston."
Since its inception in 1996, the Skills Development Fund grants have created or upgraded more than 356,744 jobs throughout Texas. The grants have assisted 4,356 employers with their customized training needs. The Texas Legislature allocated $48 million to the Skills Development Fund for the 2018-19 biennium.
Employers seeking more information about the Skills Development Fund may visit the TWC website at www.texasworkforce.org/skills.
Above: Julian Alvarez (fourth from left), commissioner representing labor with the Texas Workforce Commission, presents Wallenius Wilhelmsen Solutions and Galveston College with a check for $60,926 Monday for skills development training. Present for the ceremony were (from left) Regent Ray Lewis, JoeAnn Nicholas and Dr. Rebecca Stout of Galveston College Continuing Education, Elise Noordam and Tracy Murillo with WWS, President Dr. Myles Shelton with Galveston College, Kristina DeWitty with Texas Workforce Solutions and Regent Armin Cantini. Galveston College is currently working with WWS to help upskill 34 people in jobs in logistics in the Port of Galveston. Employees are working to receive their MSSC certification in logistics, along with technical training for handling BMW's cars, OSHA safety and business leadership training.  Funding for this program was awarded by TWC and the Skills Development Fund.