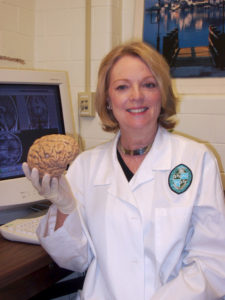 Galveston College's 2017-2018 Lecture Series , "The Brain", continues with its second presentation "Anxiety, Stress, Trauma and the Brain – Science and Strategies" on Wednesday, November 15, 2017 at 7:00 p.m. in the Abe and Annie Seibel Foundation Wing. The second lecture of the series will be presented by educational neuroscientist Dr. Janet Zadina, Ph.D.
A determination to better understand learners' struggles led high school and community college teacher Janet Zadina to an interest in neuroimaging studies of dyslexia. Pursuing that interest, she became a neuroscientist, conducting MRI research into dyslexia in the Department of Neurology at Tulane University School of Medicine, where she completed a Postdoctoral Fellowship in cognitive neuroscience.
Today, Dr. Zadina is an internationally renowned speaker, consultant, and author. She is known for her extraordinary ability to debunk popular myths about the brain while keeping educators aware of credible brain research. The Society for Neuroscience honored her with the 2011 Science Educator Award for making significant contributions to public education and raising awareness of neuroscience through her powerful conference presentations and transformational workshops.
She is the author of reading and learning textbooks for students as well as professional development books for teachers, including Multiple Pathways to the Student Brain, and is co-founder of the Butterfly Project, a project designed to help teachers who have experienced natural disasters. Among her many honors, she has been named as a Distinguished Fellow in the Council of Learning Assistance and Developmental Education Associations.