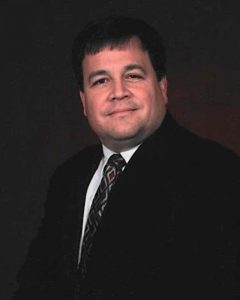 Dr. Myles Shelton, president of Galveston College, announced today the appointment of Dr. Van Patterson of Longview, Texas, to the position of vice president for administration. He will succeed Dr. Gaynelle Hayes, who retired Aug. 31 after 50 years of service at Galveston College.
Dr. Patterson has been the director of the Longview University Center, a branch campus of the University of Texas at Tyler, since 2013, where his responsibilities include day-to-day operation of the campus, building enrollment, fundraising, increasing public awareness of the campus, and creating and overseeing an annual budget. He also works closely with the Longview University Center Development Council, community college and high school administrators, and local business, community and government leaders.
Prior to joining UT Tyler, Dr. Patterson served 17 years at Panola College in Carthage, Texas, where in various roles his responsibilities included fundraising, marketing and public relations, enrollment management, alumni affairs, academic advising and student activities.
As vice president for administration at Galveston College, Dr. Patterson will provide leadership in the areas of public affairs, development, physical facilities, grounds, security, information technology and auxiliary services, including intercollegiate athletics, the college bookstore, campus housing and food services.
"We are delighted to have Dr. Patterson joining the Galveston College family," Dr. Shelton said in making the announcement. "We are confident that his knowledge and expertise in so many different areas will benefit our college, our students and our community."
Dr. Patterson has a doctor of education in higher education administration from Texas A&M University-Commerce, a master of business administration from East Texas Baptist University and a bachelor of business administration in marketing and management from Baylor University.  He has taught courses in research, curriculum and instruction, and physical education.
"I am honored and excited about this opportunity and will do everything I can to ensure that Galveston College continues to be an institution the community can be proud to be associated with and support," Dr. Patterson said. "During my visit to Galveston College I observed a great sense of camaraderie among the faculty, staff and administration. This is wonderful working environment that I look forward to joining soon."
Dr. Patterson and his wife, Marty, have been married 28 years and are the parents of two children, David and Holly. The Pattersons plan to make their home in Galveston.
Dr. Patterson's first day at Galveston College will be Sept. 17.