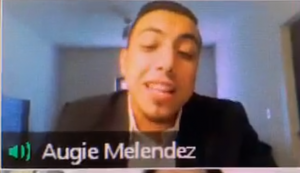 Augie Melendez
The Galveston College TRIO Upward Bound program celebrated its 2020 Virtual Awards Ceremony July 16 via GoToMeeting.
Priselda P. Perez, Upward Bound director, welcomed the audience and recognized guests and alumni.
"We have had some challenging times this past year, but looking back I believe all of our students have worked hard to continue to meet their academic and personal goals," Perez said.
"I have seen a tremendous amount of resiliency and heartfelt commitment to making the best out of our current situation. I commend the students, parents, Upward Bound instructors, staff, alumni and many of those in our community at Galveston College and Ball High for their efforts in supporting academic and personal pursuits. We will continue to overcome any challenge put forward as a team and as a family."
Perez introduced Galveston College and Upward Bound alumnus Agustin (Augie) Melendez, a certified/licensed athletic trainer at the University of the Incarnate Word in San Antonio, who gave an inspirational keynote presentation.
Melendez encouraged the students to set goals and to turn any setbacks into positive learning experiences.
"There are not enough mirrors for students of color in higher education, only windows," Melendez said. "It's easy to become a statistic. The hardest part is letting yourself fall into the negative."
Following a slideshow presentation created by Gabriela Zepeda that honored the Class of 2020, graduates were recognized by Perez.
2020 Bridge program and early admissions students were recognized by Rosie Rios, Upward Bound academic coordinator.
Summer academic course awards were presented by Upward Bound instructors.
The Leadership Award, Service Award, Outstanding Bridge Student Award, Outstanding Senior Award and School/Work/Life Balance Awards were presented by Rios.
Closing remarks were made by Perez.
Class of 2020 members and their chosen colleges include Oswaldo Alonso, Galveston College; Jasmin Arcega, Stephen F. Austin University; Leslie Castillo, Galveston College; Geovon Evans, Galveston College; Anais Franco, Galveston College; Eliazar Garcia, Galveston College; MarcoAntonio Gomez, Galveston College; Amethyst Guerra, Galveston College; Marisol Gutierrez, Galveston College; Wai Kaung, University of Texas; Camryn Montoya, Galveston College; Daniel Ortiz, College of the Mainland; and Gatien Powell, Galveston College.
Also, Benjamin Pulido, Galveston College; Kate Ramos, Galveston College; Kyra Ramos, Galveston College; Donavan Reeder, Galveston College; Katherine Rivera, Galveston College; Kiara Ruiz, Galveston College; Amari Williams, Lamar University; and Leyha Williams, Howard University.
To view Melendez's presentation, visit the Galveston College Facebook page.