Galveston College TRIO Upward Bound participants Alicea Rice, Makia Golliday, and Victoria Weade were recently recognized as scholarship recipients.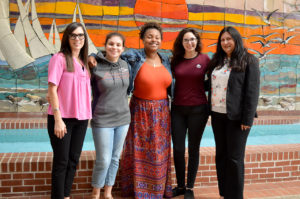 Alicea Rice received the Ashlyn Shoemaker Scholarship. Makia Golliday received the Galveston County NAACP #6180 Scholarship, Ashlyn Leigh Shoemaker Memorial Scholarship, Ivy Isle Foundation of Texas Scholarship, Marcus Joseph Netherly Memorial Scholarship, Ball High Class of 1990 Scholarship, and the Ricky Roa Memorial Scholarship. Victoria Weade received the UT Dallas Academic Excellence Scholarship, Moody Foundation Scholarship, Nick Gary Foundation Scholarship, and the Ashlyn Shoemaker Scholarship.
Each of the students have been participants in the TRIO Upward Bound program since the summer before their 9th grade year at Ball High School. They are graduating this June and will be attending various universities this Fall. Each of the students have earned dual credit hours at Galveston College and will have the opportunity to reverse articulate the courses from the university and earn an Associate degree from Galveston College prior to earning their Bachelor's degree from the University. Alicea will be attending University of Texas- San Antonio. Makia will be attending Texas State University, and Victoria will be attending University of Texas- Dallas.
About TRiO Upward Bound Program
The Galveston College TRIO Upward Bound program is a federally funded college preparation program serving 59 first generation college students per year. It provides students with the opportunity to receive supplemental instruction, tutoring, academic, and personal advising. Students are challenged by enrolling in rigorous courses that will prepare them for college. They visit university campuses, participate in educational, cultural, social enrichment activities, and are exposed to various career opportunities.