GC Student Athlete, William Leeming, Receives Rob Brasier Award
Galveston College Whitecaps player William Leeming recently received the coveted Rob Brasier Memorial Award for being the Whitecaps baseball player with the highest grade point average. William Leeming is a sophomore right handed pitcher from Fort Worth, Texas.
The Rob Brasier Memorial Award, a $1,000 gift to the Whitecap male athlete scoring the highest grade point average, was set up through the generosity of Dr. Allan and Anne Brasier, the parents of Rob Brasier in 2007 to honor the memory of their son Rob Brasier who was a gifted student and baseball player.
Rob Brasier was a talented baseball player at Ball High School and he was great at computers and he attended some classes at Galveston College when he was in the tenth grade at Ball High. Many friends and relatives of the family have contributed to the award fund held with the Galveston College Foundation.
PHOTO L to R: Chris Joblin, Whitecaps Head Baseball Coach; Karen, Anne and Allan Brasier, Rob Brasier's sister and parents; William Mason Leeming, Rob Brasier Memorial Award winner; Dr. Gaynelle Hayes, Vice President for Administration at Galveston College. Leeming, a right handed pitcher for the Whitecaps, won the Rob Brasier Memorial Award worth $1,000 in cash, as a result of having the highest grade point average of all student athletes on the Whitecaps baseball team.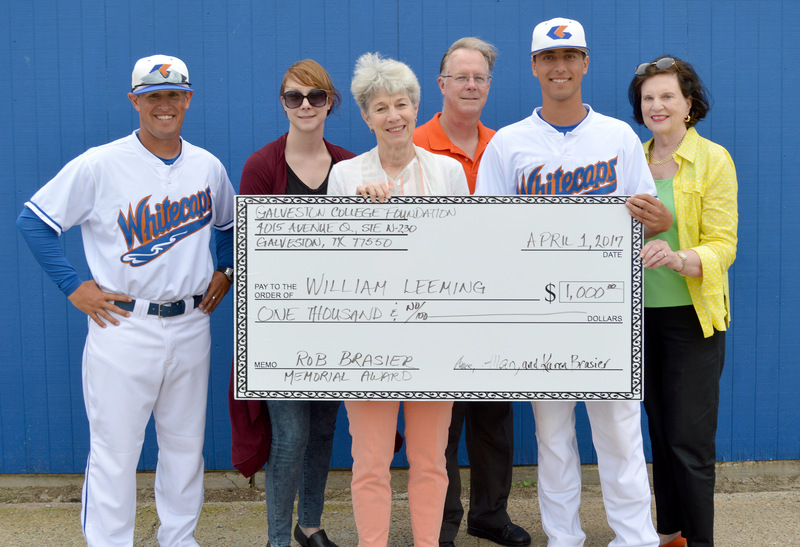 Contact Galveston College