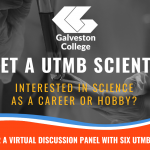 Are you pursuing a career in science or a medical field? Are you interested in science as a hobby? Do you find science fascinating and fun?
The Galveston College Faculty Professional Development Committee will host a virtual lecture featuring a panel of six scientists who will discuss their disciplines and their latest research on Tuesday, April 13, at 3 p.m. via Zoom videoconference.
To access the meeting, please use the following link:
https://us02web.zoom.us/j/89296791451?pwd=dHlzNXVrQTJ1UjQ5TjBwSGE3SzVUdz09
Meeting ID is 892 9679 1451. Passcode is Galveston.
Panelists include the following:
Scott Segura
Scott Segura is a third-year pathology student at the University of Texas Medical Branch working on using Salmonella bacteria to shut off immune checkpoints that allow Leishmania parasites to survive in hosts. He received his Bachelor of Science in biology from the University of Texas at Dallas where he participated in research on cancer and a protein from Y. pestis, the bacteria that causes plague. He also spent summers doing internships at UTMB and Weill Cornell in New York City working on many pathogens from Zika virus to malaria. His scientific career started in high school through a partnership between Ball High and UTMB where he shadowed a graduate student working on West Nile virus. After graduating, he plans to pursue a career in science communication and community outreach to educate the public on the latest biomedical science and the benefits of research. Scott was born in Galveston and enjoys working out, swimming, and horticulture.
Clairissa Hansen
Clairissa Hansen is a third-year PhD student at UTMB studying experimental pathology and public health. In the lab, she studies yellow fever virus and aims to uncover how the vaccine against this virus is so effective at preventing disease. She started gaining lab experience in a microbiology lab as an undergraduate, continued with a summer fellowship at the Mayo Clinic, and came to UTMB to study viruses in 2018. However, she is planning to move away from the lab bench in the future to focus on more translational studies. She is interested in pursuing a career in science communication, public health, and health policy and hopes to help the public better understand the science that affects their lives. Clairissa grew up in Colorado and enjoys swimming, playing the saxophone, traveling, and trying new recipes in the kitchen.
Linda Kenney, PhD
Dr. Linda J. Kenney is the Tom and Kaye Arnold Professor of Gastroenterology in the Department of Biochemistry and Molecular Biology at UTMB. She was raised in Iowa, attended the University of Iowa and then when to the University of Pennsylvania for graduate school.
There she studied the Na,K-ATPase, an enzyme isolated from dog kidney and also from human red blood cells. She moved to a post-doctoral fellowship at Yale University and then changed fields to work on bacteria. At Princeton University, she began studying how bacteria such as E. coli sense their environment and respond by changing gene expression. She became an Assistant Professor at Oregon Health & Science University in Portland, OR where she continued her work on signaling. In 2003, Dr. Kenney moved to the University of Illinois-Chicago and began working on Salmonella, a bacterium that causes food poisoning. From 2009-2019, she worked at the Mechanobiology Institute in Singapore before moving to UTMB. Dr. Kenney is exploring novel models for studying Salmonella, using Zebrafish, the nematode C. elegans and chick embryos. Most recently, she has been working to develop Salmonella as an anti-tumor agent. In her spare time, Dr. Kenney enjoys hiking in the mountains of New Mexico, plays tennis, is a keen birdwatcher and participates in close-readings of Shakespeare.
Kyle Buchan, PhD
Dr. Kyle Buchan is a postdoctoral fellow and Zebrafish scientist working in the Kenney lab in the department of Biochemistry and Molecular Biology at UTMB. Kyle received his undergraduate in Microbiology from the University of Dundee, Scotland in 2014, where he worked on bacterial pathogenesis and protein secretion. Afterwards, he crossed the border and moved to Sheffield, England for his PhD, where he went from working only on bacterial pathogens to working with a unique animal model, the Zebrafish. During his PhD he created several unique strains of humanised Zebrafish and used them to study the immune response to MRSA infection. In 2018 he moved to Singapore to work with Dr. Kenney, using the Zebrafish to study Salmonella infection inside the gut using cutting-edge microscopy, and explore Salmonella as an anti-tumour agent using a Zebrafish that develops liver cancer. In 2020
Kyle moved to Galveston with the Kenney group to establish the university's first Zebrafish facility, which now holds over 200 fish. In his spare time Kyle enjoys listening to music, playing guitar, cycling and reading.
Jennifer Hurtig
Jennifer Hurtig completed her undergraduate studies at the College of Wooster in Ohio. She is currently a fourth-year graduate student at the University of Texas MD Anderson UTHealth Graduate School of Biomedical Sciences, in the Microbiology and Infections Disease program. Her project focuses on understanding RNA processing and its involvement in a rare neuronal disease called pontocerebellar hyperplasia. Jennifer has made many significant contributions to the scientific and academic community, and has held a number of leadership roles as part of the Texas Medical Center Chapter of the American Society for Microbiology. Most recently, her outstanding efforts were recognized when she was selected as the most recent group of John Kopchick Fellows at the graduate school.
Natalie Sirisaengtaksin, PhD
Natalie Sirisaengtaksin received degrees in Psychology and Biology from the University of Texas at Austin and the University of Houston-Downtown. She completed her PhD in Neuroscience at the University of Texas MD Anderson UTHealth Graduate School of Biomedical Sciences, where she studied how proteins affected the growth of neuroblastoma, the most common pediatric solid tumor. For her postdoctoral studies, Natalie shifted to microbiology, where she earned a fellowship from UTHealth and the Cancer Prevention Research Institute of Texas to study and understand the strategies of bacterial defense systems and to adapt them for use against diseases like cancer. In addition to research positions, she has also worked as a communications/contract specialist for a local biotech start-up company, interned in the Office of Technology Management for UTHealth, and was a project manager for a number of consulting projects contracted by both large and small pharmaceutical companies.
Currently, Natalie works for the graduate school and serves as an academic advisor for entering graduate students.
For more information on the event, please contact Dr. Laimutis Bytautas, chair of the Faculty Professional Development Committee, at [email protected].