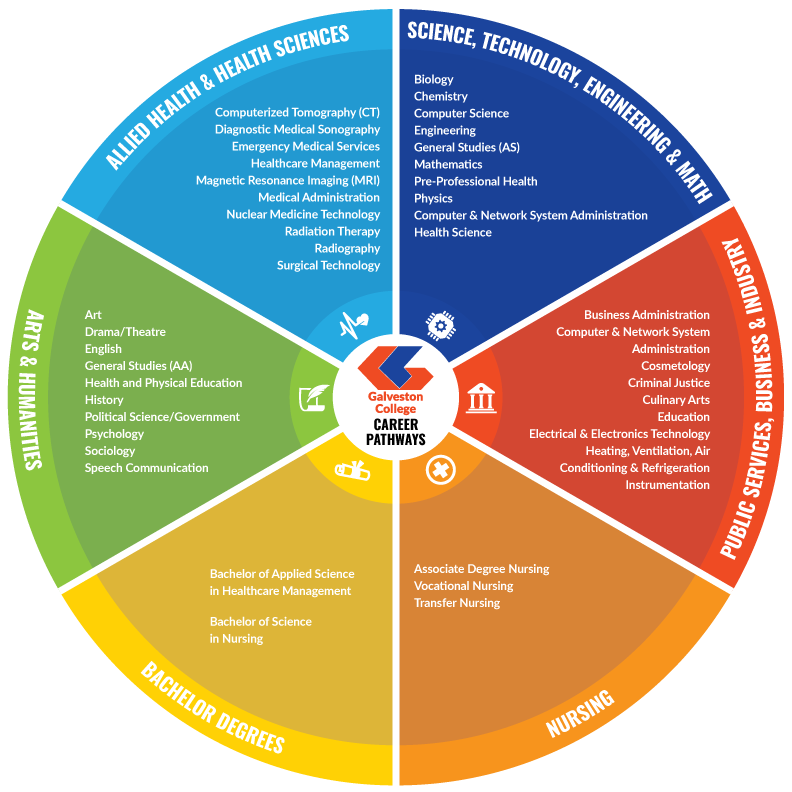 The
Career Pathways Model
at Galveston College is an integrated, institution-wide approach to student success based on intentionally designed, clear, coherent, and structured educational experiences that guide each student effectively and efficiently from point of entry through to attainment of high-quality postsecondary credentials and careers.
Through
Career Pathways
students are helped from the start at Galveston College to explore academic and career options, choose a program of study, and develop a plan based on the program maps. These plans simplify student decision-making, and they enable Galveston College to provide frequent feedback and targeted support to help students stay on their career pathway and complete their program of study leading to successful career opportunities or transfer.
Source. Center for Community College Student Engagement. (2018).
Show me the way: The power
of advising in community colleges.
Austin, TX: The University of Texas at Austin
Clarify pathways for students

Help students get on a guided path

Help students stay on a guided path

Ensure students are learning
In order to:
Increase retention (course completion and fall to fall retention)

Improve course success
Increase completion rates of a recognized credential
Increase successful transfer to 4-year institutions
Initiative #1 – Redesign General Education Courses
Redesign courses to infuse active learning strategies proven to increase success.
Equip new flexible-design, technology-rich classrooms
Renovate and equip collaborative learning space in GC's library to facilitate active learning.
Initiative #2 – Develop a New Comprehensive Pathways Advising System.
Renovate key student services spaces and update IT capacity
Introduce a new advising software system to faculty, staff members and students
Develop pathway-specific transfer agreements with regional four-year institutions
Sandra Metoyer, Ph.D.

Director

Title V Pathways Project

Galveston College

409-944-1283

Dr. Sandra Metoyer is the Director of the Title V Pathways Project at Galveston College. She has her Ph.D. in Geography from the College of Geosciences at Texas A&M University. Her interests include STEM education, community college education, program evaluation, education research, and Guided Pathways. In her role as Director for the Title V Pathways project, Dr. Metoyer is responsible for facilitating the development, implementation, and evaluation of a Guided Pathways model at Galveston College. The Guided Pathways model, fully implemented, will improve student success at Galveston College through increased retention, academic and program success, completion, and transfer.