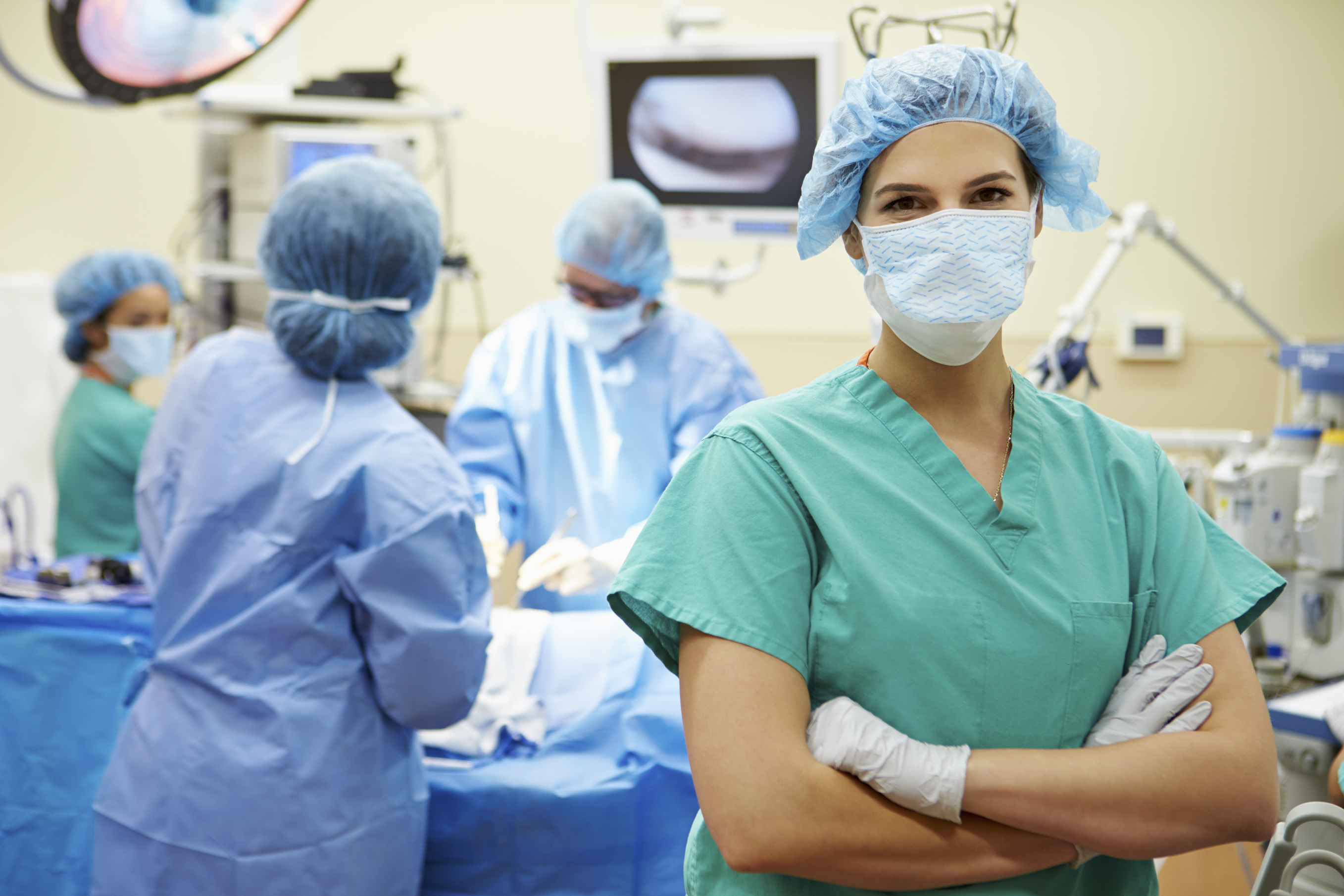 The Surgical Technology program includes both theory and practical clinical experience designed to prepare the student to pass the national certification exam for surgical technologists. Surgical techs can work in many different specialties in a variety of settings such as hospitals, dental offices, or outpatient clinics. Some of these specialties include Eye, Neuro, OBGYN, Ortho, Plastics and so many more.
Depending on a number of factors some including geographic location graduates can reasonably expect entry level salaries ranging around 54,000 a year.
Due to limited enrolment into the program, we cannot accept everyone that applies. When the perquisites are fulfilled, there is an application process. From there candidates go through an interview process before being accepted into the core program. Once accepted into the program you will receive hand on training and valuable insight in knowledge and skills in sterile and aseptic techniques that is required for your new career.
| | |
| --- | --- |
| Name | Melissa Tremont |
| Title | Surgical Technology |
| Room | N-207 |
| Program Area | Surgical Technology |
| Phone | 409-944-1445 |
| Email | mtremont@gc.edu |
| Admin Support | Elizabeth IIes Ext. 490 |
Please email Melissa "Mel" Tremont at
mtremont@gc.edu
for for an application or stop by the Allied Health Department (N-200) and request a paper copy from Mrs. Liz at the front desk.
Prerequisites

SCIT
1307
Applied Human Anatomy & Phyisology I1
3
HITT
1305
Medical Terminology

3

HPPS
1201
Introduction to Health Professions
2

Total:

8

First Year - First Semester (Summer)

SRGT

1505
Introduction to Surgical Tech
5
SRGT
1509
Fund of Perioperative Concepts
5
SRGT
1260
Clinical I
2

Total:

12

First Year - Second Semester (Fall)

SRGT
1541
Surgical Procedures I
5
SRGT
1461
Clinical II
4
HPPS
2300
Pharmacology for Health Professions
3
HPPS
2201
Pathophysiology
2

Total:

14

First Year - Third Semester (Spring)

SRGT
1542
Surgical Procedures II
5
SRGT
1562
Clinical III*
5
SRGT
2130
Professional Readiness
1

Total:

11

Second Year - First Semester (Fall)

ENGL

1301
Composition I
3
Creative Art2 or Language, Philosophy, & Culture2
3

Speech Elective

3
Social & Behavioral Science Elective2
3
MATH2 or Life & Physical Science Elective2
3

Total:

15

Total Semester Credit Hours in Program:

60

1Students may substitute completion of BIOL 2401 & BIOL 2402 with a grade of "C" or better and no more than 5 years old for SCIT 1307

2Select from courses listed in Galveston College's Core Curriculum section in the current catalog.

* Identifies Capstone course

Underline - Identifies course to meet general education requirements for AAS Degree.
2020 Cohort: 1/5
2021 Cohort: 2/2
The Surgical Technology Program is accredited by the Commission on Accreditation of Allied Health Education Programs (www.caahep.org) upon the recommendation of the Accreditation Review Council on Education in Surgical Technology and Surgical Assisting (ARC/STSA).
Commission on Accreditation of Allied Health Education Programs
9355 - 113th St. N, #7709
Seminole, FL 33775
727-210-2350
www.caahep.org

To contact the ARC/STSA
6 W. Dry Creek Circle, Suite#110
Littleton, CO. 80120
303-694-9262
info@arcstsa.org