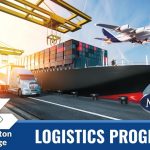 Are you interested in being part of one of the largest employment sectors in Texas? Is a career in logistics and supply chain management right for you? Would you like more information about the new associate degree and certificates in logistics at Galveston College?
Mark your calendar and make plans to attend an information session hosted by Galveston College Logistics Program Director John Rydlund on Tuesday, July 13, at 10 a.m. in the Galveston College Cheney Student Center Seibel Wing, 4015 Avenue Q, Galveston.
Rydland will discuss the job outlook for logistics careers, highlight the program offered at Galveston College and go over important steps to enroll. He also will discuss the dual-credit program offered at Ball High School, share information on important industry certifications and provide insight on career advancement opportunities for those already in the field.
Crucial to the supply chain of any business, logistics involves the timely delivery of freight and goods from one place to another, as well as the unloading and unpacking of this cargo. Whether by land, air or sea, Galveston, Houston and the Gulf Coast region offer an impressive array of logistical and distribution channels to move goods around the country and the world. Houston is also home to the No. 1 foreign trading port in the U.S. by tonnage and the largest container port on the Gulf Coast making this a capital of global trade.
The Galveston College Logistics program covers the foundational areas of logistics and supply chain and develops students' abilities to think critically and solve real-world problems. Students learn negotiation tactics and receive exposure to supply chain analytics, both desirable skills for employers.
A two-year Associate of Applied Science degree and Basic, Intermediate and Advanced certificates are available.
For more information, contact Rydlund at (409) 944-1318 or jrydlund@gc.edu.