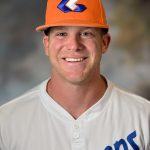 Galveston College Assistant Baseball Coach Kyle Giusti has been named to the Abilene Christian University Baseball All-Decade Team.
As a third baseman, Coach Giusti played in the final Division II year for ACU in 2013 and was named to the All-Lone Star Conference First Team. He also played in ACU's first year as a Division I school.
Coach Giusti hit .346 in two seasons, including a team-high .358 average in 2013. He drove in 59 runs in two years, including 40 as a junior. He also recorded a .931 fielding percentage at third base.
Twenty-eight of ACU's best players from the past decade (2010-2019) were nominated for this prestigious group. Fans voted online to decide the top eight position players, including three position-less outfielders, designated hitter, utility player, the top two starting pitchers and top two relief pitchers to complete a 14-player All-Decade Team.
Coach Giusti is the son of Donna and Joe Giusti, Galveston County Precinct 2 County Commissioner. He is a graduate of Santa Fe High School and played two years for the Galveston College Whitecaps, where he was named 2012 Texas/New Mexico JUCO all-star, as well as all-conference and region as a sophomore.
For more information, visit https://acusports.com/news/2020/6/19/mens-golf-fans-select-baseballs-all-decade-team.aspx.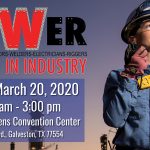 More than 1,250 women are expected to fill Galveston's Moody Gardens Convention Center from 8 a.m. until 3 p.m. on Friday, March 20, to learn about expanding opportunities for women in the petrochemical and industrial trades industries.
This marks the Women in Industry Conference's fifth year, hosted by the Community College Petrochemical Industry (CCPI), a consortium of nine area community colleges.
The one-day event is designed to introduce women to the careers and opportunities available in the petrochemical and industrial skills industries, career fields long dominated by males but now open to women.
The conference is geared for all women—the unemployed or underemployed, high school or college students, veterans and women already in the field, looking to advance in their career paths.
Participants will hear from other women who work in the petrochemical and industrial trades industries and will have the opportunity to talk with college representatives about enrollment, financial aid and other training-related issues. Several major employers are also expected to be present.
To register for the conference, click
here
. Cost is $25, which includes a light breakfast and lunch.
To learn more about the Women in Industry conference or to become a corporate sponsor, contact Kelly Dando at (281) 425-6221 or
kdando@lee.edu
.
CCPI member colleges include Alvin Community College, Brazosport College, College of the Mainland, Galveston College, Houston Community College, Lee College, Lone Star College, San Jacinto College and Wharton County Junior College.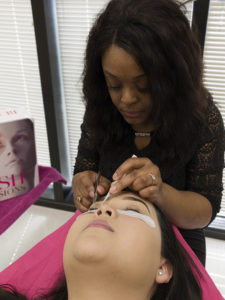 Ebony Spiller has always enjoyed helping others look their best.
As a student at Ball High School in Galveston, she completed the two-year, dual-credit Cosmetology program at Galveston College and, following graduation, earned state of Texas certification as a licensed cosmetologist, as well as licensure in Novalash eyelash extensions.
Born and raised in Galveston, Spiller currently works at the Hotel Galvez and Spa, where she serves as a lash stylist and makeup artist in the salon. She is continuing her studies at Galveston College with the ultimate career goal of becoming a licensed cosmetology instructor.
As the mother of an active one-year-old, Brycen, Spiller said she enjoyed the flexibility of the Cosmetology program at Galveston College.
"I wouldn't be able to do what I do now if I didn't have the training from Galveston College."
She said she especially enjoyed her senior year in the dual-credit Cosmetology program.
"I loved Ms. (Kristin) Harris' class," said Spiller. "I want to be able to teach people cosmetology the way Ms. Harris taught me."
Students in the 1,000-contact-hour, dual-credit Cosmetology program can earn upwards of 42 hours of college credit while at Ball High School. They enroll in courses such as Principles of Cosmetology Design and Color Theory, Introduction to Cosmetology and Cosmetology 1, and Cosmetology 2 and Practicum in Human Services.
Students also can opt to pursue the 320-contact-hour Novalash licensure program, which Spiller took in the evenings with Cosmetology Program Director Sandra Villarreal.
Spiller said her grandmother and her significant other, Marcus, whom she has been dating for four years, have encouraged her to pursue her dreams.
"After my first year in the Cosmetology program, I wasn't sure I wanted to pursue it my senior year," Spiller said. "My grandmother encouraged me to finish out my senior year of the program. I'm glad she did because I had a chance to meet Ms. Harris and decide that I wanted to teach."
Spiller is taking general education courses this semester and plans to enroll this fall in the Cosmetology Instructor program at the Galveston College Charlie Thomas Family Applied Technology Center.
"I love what I do. The work and styles are always changing," she said. "I'm excited to do something that changes the way people look and feel."
While the dual-credit Cosmetology program for high school students is two years in length, encompassing both junior and senior years, the college-level program is one year in length.
For more information on the Galveston College Cosmetology program, contact Sandra Villarreal at svillarr@gc.edu or (409) 944-1480.