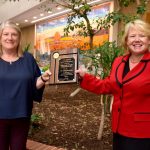 Dr. Cissy Matthews, vice president of instruction at Galveston College, recently received the Lindle Grigsby Leadership Award from the Texas Association of College Technical Educators.
The Lindle Grigsby Leadership Award was created in 2012 to recognize one of the association's members who has demonstrated outstanding leadership skills and dedication to the organization. The award was presented to Lindle Grigsby the first year for his many years of dedication and service to TACTE.
The recipient must be a current member of TACTE and an individual who has demonstrated the following characteristics:
initiative and competence in accomplishing the goals and tasks of career and technical education;
forethought in providing a vision for the future;
models community college instructional leadership that inspires others;
implementation of student success strategies; and
dedication to local and state issues related to career and technical education.
Dr. Mathews has more than 20 years of experience in career and technical education (CTE). She started in CTE as an emergency medical services faculty member at College of the Mainland in Texas City in 1998. Later, she became the dean of workforce and continuing education at COM. While in this role, the college implemented several new CTE programs, particularly in allied health areas.
Since Dr. Matthews joined Galveston College, where about 40 percent of the programs and enrollments are related to career and technical education, the college has added many CTE programs, including Cosmetology, Electrical and Electronics Technology, Computer and Network Administration, Surgical Technology, Diagnostic Medical Sonography, Instrumentation Technology and Logistics. In 2019, the college added its first bachelor's degree – a Bachelor of Applied Science in Healthcare Management, which allows graduates with associate degrees in allied health fields to pursue a fully online bachelor's degree at the cost of a community college education.
Dr. Matthews joined TACTE in 2002 and served as president from 2013-2015. In addition to serving on the board of directors, she served two terms as treasurer and on conference planning committees and various other committees that support, encourage, and advocate for career and technical education.
"Dr. Matthews is responsible for the majority of the people that currently serve on the TACTE board through either individual recruitment or through her continued service as the chair of the TACTE Election Committee," said Alexander Okwonna, president of TACTE in announcing the award.
"She has always been and continues to be a shining example of CTE loyalty, love and service."