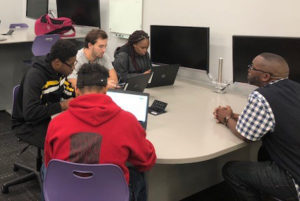 Galveston College students who were directly impacted and suffered losses due to Hurricane Harvey can now apply for Harvey Student Relief Funds.
Application forms are available online and in the Galveston College Financial Aid Office and must be returned no later than Feb. 9.
These funds are not intended to replace financial aid, insurance coverage or FEMA funds for which students may be eligible.
This is a one-time allocation and priority will be given to those with documented home or auto damage with funds for expenses such as food, clothing, temporary shelter or replacing other basic essentials as a result of the storm.
Expenses covered by the fund may include but are not limited to:
Books and other essential academic expenses
Temporary housing or other accommodations
Replacement of essential personal belongings lost due to the storm
Medications and other costs related to medical care and safety needs
Expenses not covered by the emergency fund include but are not limited to:
Tuition and fees
Non-essential utilities (i.e. cable TV), household or furniture costs not related to damage or loss
Costs for entertainment, recreation, non-emergency travel or other non-essential expenses
Loan payments
Awards may range from $250 to $1,000. This funding does not have to be repaid.
In order to be eligible for the program, applicants must:
be a resident of a Texas disaster declared county.
have a financial hardship resulting from Hurricane Harvey impact.
be currently enrolled at Galveston College in at least six semester credit hours.
be in a declared major or certificate.
complete an application in full.
Applicants must submit copies of supporting documentation (i.e. FEMA approval, Disaster Supplemental Nutrition Assistance Program (D-SNAP) approval, insurance claim documents and/or approval from other relief agency directly related to Hurricane Harvey).
For more information, contact the Financial Aid Office at (409) 944-1238 or email at mnash@gc.edu.